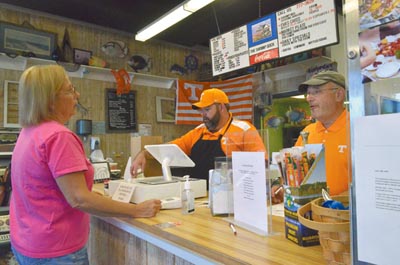 Linda Simpson of Lenoir City, left, talks to The Shrimp Dock manager Jeff Shields, center, and restaurant owner Phil Dangel Saturday, Sept. 15. Simpson said she is a regular customer of the fresh seafood marketplace and was glad to find they had gator gumbo in stock.

Just as children eagerly wait for Christmas Eve's visit from Santa Claus, Tennessee Vols fans anxiously anticipate the third Saturday in September and hope for a football victory against SEC East rival Florida.

Whether the team emerges triumphant this Saturday, Sept. 22, under new head coach Jeremy Pruitt is a mystery, but in the meantime, The Shrimp Dock owner Phil Dangel can give fans a "taste" of gator all the same, offering around 2,000 pounds of the fresh alligator meat at all three Shrimp Dock locations.

Regionally known as "Gator Hater Week" leading up to the big game, "it's the highlight of our year," Dangel said Saturday, Sept. 15, at his Farragut restaurant, 11124 Kingston Pike, with locations also in Bearden and Alcoa. "Friday will be our single busiest day of the year, from the point of view of total transactions."

He expects this year to be even stronger. Not only is this year's battle in Neyland Stadium, but it also is a night game (7 p.m. opening kickoff, "so we will sell gator all day."

It is the 10th year the restaurant has offered the delicacy, and the demand has only grown over the last decade, with this year's poundage amount "the most ever," Dangel said.

"I like to think we are Gator Headquarters of Knoxville," he added.

Fans must think so, too, as Dangel starts receiving gator meat inquiries "in May and June, asking when we will be getting it." When it does come in, "we see people we don't see for the rest of the year."

The Shrimp Dock sells the meat frozen for $16.99 a pound, the same price it has been for "six or seven years," Dangel said. The restaurant also will prepare various amounts in-house for sale.

"It is very popular for in-home parties, and we sell a lot for tailgating, too," he added.

Really big orders already had been called in weeks in advance, Dangel said.

In addition to the meat itself, The Shrimp Dock also received several intact skinned gators — with the heads and feet still attached — last weekend, one of which was being purchased by an individual, Dangel shared.

Beyond just the obvious jab at the Florida football team, Dangel said he believes it is the novelty of the meat that makes it so popular.

"People will buy a pound or two and ask their kids what they think they are eating, for example, or ask them to guess before telling them," he said.

Steve Presnell is assistant manager of the Farragut store, and he prepared a few pounds of gator last Saturday. He said he had flavored it with The Shrimp Dock's special seasoning blend, drained it, marinated it about an hour before dredging it in cornmeal and flour then deep-frying the nuggets for about two minutes in hot oil. He recommended buttermilk as a good marinade.

Presnell said every pound makes about three po'boy sandwiches, and the stores will be cooking up plenty of those this weekend, too, for diners both on- and off-site.

The Shrimp Dock in Farragut will be open extended hours to accommodate the demand Thursday Sept. 20, Dangel said. It will close at 8 p.m. (the restaurant will shut down at 7:45 p.m.). The business closes at its regular time, 7 p.m., Friday, Sept. 21, and at 6 p.m., on game day Saturday.

For more information, call The Shrimp Dock at 865-777-3625.