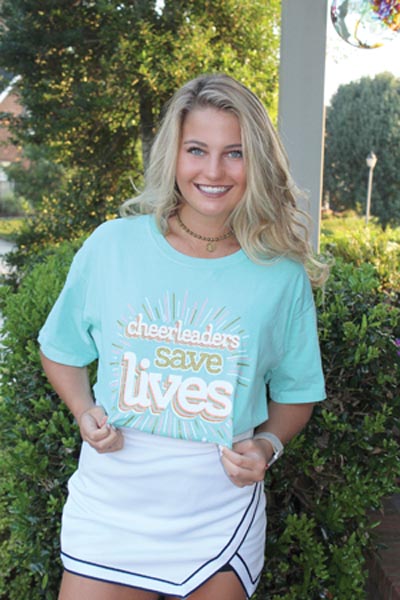 Raelee Scarbrough, Farragut High School junior and varsity cheerleader, currently is raising funds for St. Jude Children's Research Hospital.

A Farragut High School varsity cheerleader is rallying the community for a cause greater than ballgames.

Junior Raelee Scarbrough decided earlier this fall to lead a fundraising campaign for St. Jude Children's Research Hospital in Memphis and is partnering with Varsity Spirit and FHS in hopes of raising $5,000.

The actual event date is set for Friday, Oct. 26, which is the night of the Farragut versus Hardin Valley Academy varsity football game at FHS's Bill Clabo Field (7:30 p.m. opening kickoff). Scarbrough said she would be taking up donations that night, but she already has set up a donation link through her Instagram account.

She also is working with Tennessee Secondary Schools Athletics Association to see if the organization will allow the school to donate $1 from each ticket sold to the cause.

St. Jude is well-known throughout the nation as a children's cancer research and treatment hospital, where services are offered free of charge.

For Scarbrough, seeds were sewn for the project in unexpected ways.

"I've been to multiple cheer camps, and they always want us to donate to St. Jude," she said.

She also modeled for Varsity Cheer Clothing line earlier this year, and that organization also encourages donations to the hospital.

Scarbrough said fellow student Mason Motley's ongoing cancer battle was another reason she wanted to help.

"It has hit close to home," she noted. "And, I thought it was a good thing to do in his honor."

Scarbrough, the daughter of Ray and Stephanie Scarbrough, also is community-minded in other ways. She has worked at the soup kitchen for her home church, Kingston United Methodist, and also volunteers with the Sparkle Cheer Program for special needs cheerleaders. She also is an honors student, runs track, trains for half-marathons and is a member of DECA and Young Life.

Donations may be made at www.events.stjude.org/raeleescarbrough, in person at the HVA-Farrgut football game or via Scarbrough's Instagram account at rae789.