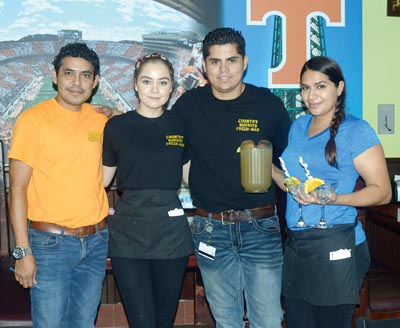 Country Burrito staff, standing from left, include co-owner Israel Canales, Karla Cobian, co-owner Martin Cobian and Blanca Lagos.

The Hardin Valley community is among the first in the area to have a Mexican restaurant that serves breakfast.

Owners Israel Canales and Martin Cobian, along with Eduerdo Ayala and Jesus Ayala, have partnered up to open Country Burrito, which opened Aug. 1 adjacent to BreadBox at 10636 Hardin Valley Road. They offer breakfast along with lunch and supper menus.

"This is the first Mexican restaurant that serves breakfast," Canales said. "We wanted something different for the community."

Additionally, he said Country Burrito offers fresh produce in its products.

"Everything is made in-house, fresh," Canales said. "All the salsas are made from scratch.

"We have seven different salsas," he added. "All the vegetables are cut, fresh, every day."

Locals can start their mornings with omelettes, French toast, pancakes, waffles and breakfast burritos.

There also is a healthy menu that includes a spicy athlete omelette or healthy spicy turkey omelette featuring egg whites. Customers also can make up their own combos with eggs their way, bacon or pork sausage, potatoes and grits or eggs and pancakes.

They also can have lunch and dinner their way with "Make Your Own Combos" featuring burritos, tacos, enchiladas, chimichangas, chile rellenos or tamales.

Besides those combos, there are Mexican-style tacos, sopes, huaraches with their choice of meats from steaks to fish, tortas (Mexican subs) and fajitas.

"I feel very optimistic," Canales said.

Among the most popular items have been the tacos and signature burrito, he said, adding ribs — or costillas de res — and tortas also are popular.

"Everything is going good so far. People seem to like it.

"We have had great, positive feedback," he added.

The owners, who met at another restaurant, have known each other for the past few years.

"We just decided to go into business together," Canales said. "(Eduerdo and Jesus own) a few more restaurants here in Knoxville. They were looking to open another Mexican restaurant to introduce breakfast.

"They found the building (on Hardin Valley Road)," he added. "We were looking for something near the high school (Hardin Valley Academy) and college (Pellissippi State Community College)."

Country Burrito is open from 7 a.m. to 10 p.m., Monday through Thursday; from 7 a.m. to 10:30 p.m., Friday and Saturday; and from 7 a.m. to 9 p.m., Sunday. It serves breakfast from 7 to 11 a.m. daily.

For more information or carry-out orders, call 865-312-5881.