9-year-old FIS student among BOMA applicants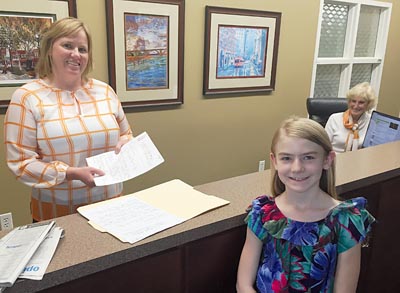 Leilani Johns, 9, formally applies for the vacant South Ward II Alderman seat in Farragut Town Hall. Town Recorder Allison Myers, left, accepts the application alongside Town receptionist Betty Newby.

All six candidates for Town of Farragut's vacant Alderman South Ward II seat are unique in their own way — but one in particular is quite a standout.

Farragut Intermediate School fourth-grader Leilani Johns, 9, has applied for the post and is confirmed by Town officials to be the youngest applicant ever for public office since Farragut was incorporated in 1980.

Even though, based on state law, she cannot be sworn in or actually hold office, Leilani said she is excited about the opportunity of going through the application process, which also will include one-on-one interviews with current aldermen and Mayor Ron Williams.

Leilani turned in her application Thursday, Sept. 6, and in it stated she would "bring a youthful perspective to the town, will be a great representative to Farragut schools, and know exactly what kids want for our parks.

"I am very active in our community and make good grades," she further stated. "I am available after 3:30 (p.m.) and before 9:30 (p.m.) during the school week. My parents will not let me have my own cell phone, but the Town could provide me with one once you appoint me."

She said later she wanted to "help my community. I love Farragut and believe I should help. I also think more kids should be involved."

Leilani also said she wanted "to give ideas about things," and suggested dinosaurs might be good additions to the parks.

She said the process is an educational experience. "I will learn a lot of things," she said. "I want Farragut to know there are many kids here and we need to be heard. I have ideas (and) my parents say it may help me down the road by doing this."

Leilani said even though she cannot take office, she wanted to pursue the application "because I can. And it might be fun, too."

One thing she said she has learned so far is that "government is needed, but can be boring."

The young candidate has lived in the South Ward since her birth in 2008, and is the only child of Bill and Margaret Johns.

While her parents encouraged her bid, they left the decision to apply up to her.

The family has long been politically-minded.

Bill Johns ran for Town mayor in 2005, and is heavily involved in a variety of clubs and organizations including the Farragut Gun Club, which he founded, and Concord/Farragut Republican Club.

A family discussion earlier this year about early-age gubernatorial runs in Kansas and Vermontled to questions about whether Leilani "might consider something like that, maybe when she was closer to 18," her father said.

"We joked about that, then six or seven weeks ago, it was announced that the Town was seeking applicants for the Ward II position," he added.

After checking with Town officials, they confirmed "she was qualified to be an applicant, so we asked her if she was interested. She said she would have to think about it, then decided it was something she wanted to do."

Both parents said they are thankful for the "positive support (from) the Town of Farragut, Town Administrator (David Smoak), Board and Mayor and Aldermen and professional staff in welcoming (our) daughter's interests and ideas in her local community as an applicant/candidate."

Politics "might" still be in her future, but for now, Leilani said she is not sure.

In many ways, Leilani is "a typical 9-year-old fourth-grader," Bill Johns said.

Her hobbies include being outdoors, storytelling and creative writing.

She also enjoys spending time with her family and dog, and working on projects throughout the community.