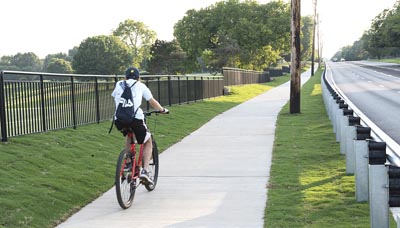 Town's 'Sidewalk Phase II'

The recently completed Kingston Pike Sidewalk Design Phase II, a combined effort by Town of Farragut staff and Cannon & Cannon, Inc. running from the intersection of Virtue Road west in front of Willow Creek Golf Club, was among six Knoxville-area projects being nominated in 2018 Engineering Excellence Awards competition.

Presented by the American Council of Engineering Companies of Tennessee, "the award is one of the highest honors an engineering firm can receive and is considered the 'Academy Awards of the engineering industry,'" an ACEC press release stated.

"As far as the design and the work they did, we couldn't ask for anything better," Farragut Mayor Ron Williams said.

Saying the project presented "a very difficult situation," he added, "From the golf course side you could see that it was going to be a very difficult deal to put that up properly."

However, "They did an outstanding job on making sure that it would be long-lasting," Williams said.

Noting the leadership of Town engineer Darryl Smith while pointing to the talent of both entities, Williams added, "We lost Darryl's assistant to Cannon & Cannon, David Sparks."

Three of the six Knox nominations were Cannon & Cannon projects.

Project entries from across the state are up for consideration.

Winners of 2018 Engineering Excellence Awards will be announced during an awards gala at the Omni Hotel in Nashville Oct. 26, where ACEC Tennessee also will celebrate its 50th Anniversary.

Attempts to contact Smith and David Smoak, Town administrator, were unsuccessful at deadline.