Using CUMC among local help, Benedetti targets parents' NC hometown for hurricane relief effort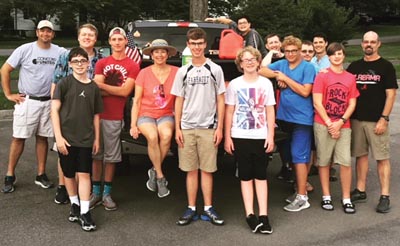 Members of Concord United Methodist Church's youth helped collect supplied to donate to Oak Island, North Carolina residents last Wednesday, Sept. 12, at the church in the aftermath of Hurricane Florence. Pictured, from left, are project organizer Tony Benedetti; Ceagan Nolan; Landon Gibbs; Stoan Adams; Oak Island resident and Tony Benedetti's mother, Judy Benedetti; Samuel Hastings; Landon Hastings; Mason Benedetti; Brad Schlomer; Caleb Sheldon; Adam Walker; Michael Henderson; Gage Adams; and Kelly Adams. 

While Tony Benedetti's parents, Frank and Judy Benedetti, were able to leave Oak Island, North Carolina, last week well ahead of Hurricane Florence's arrival, all were cognizant many others were not so fortunate.

So, as his mother and father were still on their way north last Tuesday, Sept. 11, this Farragut resident began gathering supplies and donations to take to victims left behind.

Benedetti set up a donation site at his home church, Concord United Methodist Church, Wednesday, Sept. 12, and again Friday, Sept. 14. Town and area assistance with those events included the youth, staff and members of CUMC and the Nautical Boat Club, along with countless individuals.

"On this anniversary of 9/11, many of our neighbors are preparing for a life-threatening storm on the east coast of the U.S.," he shared on Facebook. "I have immediate family who will no doubt be impacted by this storm in Raleigh, Oak Island (just south of Wilmington) and Norfolk. … I am collecting supplies that will be taken directly to those in need especially Oak Island and Brunswick County.

"I have chosen Oak Island due to my parents living there," he also shared on his Facebook page. "(They have evacuated) but I have gotten to know many of their neighbors, business owners and employees who live and work in the Oak Island area. … This will be a terrible event and things will be needed for these families for a long time to come."

Benedetti appeared on a Knoxville radio station and a TV news broadcast to get the word out he was collecting items such as batteries, flashlights, bug spray, tarps, toiletries, gas cans, cases of water, gas cans, generators, work gloves, toiletries and other necessities that he hopes to transport to North Carolina later this week.

"These supplies will be taken in my personal vehicle as soon as Emergency Management Professionals give us the OK," he said.

Donations poured in throughout the week, even as Hurricane Florence finally made landfall, hitting hard the very area from where Benedetti's parents had managed to escape.

Throughout the weekend, Benedetti continued to update the progress of both the storm and the donation efforts.

By Sunday, Sept. 16, he was asking for additional items, including chainsaw items (including) bar and chain oil, files, fuel cans, oil for mixing plus bug spray to aid in what will likely be a months-long clean-up effort.

Even though rains continued to deluge the coastal areas, Benedetti still plans to head that way sometime later this week.

He said he also received assistance from many others including Carla Sexton and Team Health; Cumulus Radio; Profiles of Knoxville; Republic Plastics Ltd.; TailBrella; neighbors in the Sheffield subdivision; his wife, Suzy Benedetti; his in-laws, Mike and Barbara Ward; and his extended family members throughout the country.

Benedetti is working with Oak Island churches Sacred Heart Catholic Church and the United Methodist Church to help with distribution once he arrives with the supplies and assistance.

To contribute, call Benedetti at 865-839-0496.