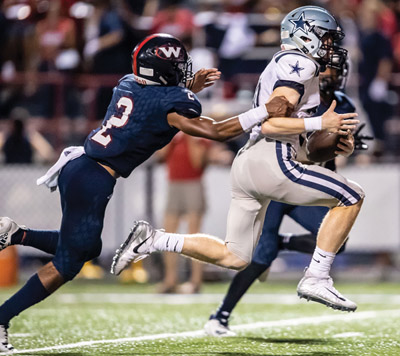 Matt White, Farragut sophomore receiver, gets loose from a pair of West defensive backs and races 38 yards for the first FHS touchdown Friday night, Sept. 21, at KWHS's Bill Wilson Field. Despite a slow start, the Admirals won 21-6.

KNOXVILLE — In grinding out a 21-6 road victory against a stout Knoxville West defense and athletic offense to stay perfect at 6-0, the state's No. 5-ranked Class 6A Farragut Admirals had a couple of sophomores come up big.

One of those, Matt White, hauled in a 38-yard touchdown pass from junior quarterback Gavin Wilkinson, helping the Admirals get back on track offensively late in the first quarter last Friday, Sept. 21.

"Our offensive coordinators read the defense perfectly, and they set up a play for me to catch the ball and score a touchdown," said White, also a defensive back. "I was just lucky enough to break loose and score a touchdown."

The other sophomore, Eli Purcell, hounded West quarterbacks and running backs from his defensive end spot much of the night.

Next up is a trip to Johnson City Science Hill (2-4, 1-1) this Friday, Sept. 28. Despite its record, Science Hill upset Bearden at BHS 28-21 Sept. 14.

Farragut 21 West 6

Defensively, "I think we've been doing great, we were doing what we've been doing the past five weeks," Billy Seal, FHS senior defensive lineman, said. "It was really a key point that we held them to two field goals. We played a really physical football team today," he added.

The Runnin' Rebels drove 85 yards in the third quarter. But it ended at the FHS 12 thanks to linebacker Kyle Carter's hit on quarterback Juwaun Moore, creating a fumble.

Senior Benji Cheatham gobbled up the first of his two fumble recoveries, which the Ads turned into an 88-yard TD march.

"Every day at practice we practice fumble recoveries, scoops and scoring," the linebacker said.

Joey Dietz, senior linebacker, also recovered a fumble for FHS.

Wilkinson heated up during that drive, hitting Carter for 18 yards, Wyatt Lucas for 18, Jaden Gibbs for 16 and Alec Keathley for 15 yards. Isaiah Gibbs, FHS senior running back, scored on Wilkinson's 6-yard play-action dump-off pass making it 14-6.

Cheatham's second fumble recovery, caused by Purcell's hit on Moore, set up the Admirals at the West 14 early in the fourth quarter. Isaiah Gibbs ran it home on the first play from scrimmage.

"West is a good football team, especially defensively," FHS head coach Eddie Courtney said. "We couldn't get a push early, so we couldn't get enough confidence offensively.

"Then we did, we settled down," he added. "... Our receiver play stepped up. Alec Keathley, tight-end, made some third-down catches. We got balance back into our offense. … Our offensive line stepped up in the second half."

Sophomore kicker Daniel Bethel converted three extra-points and had four touchbacks.