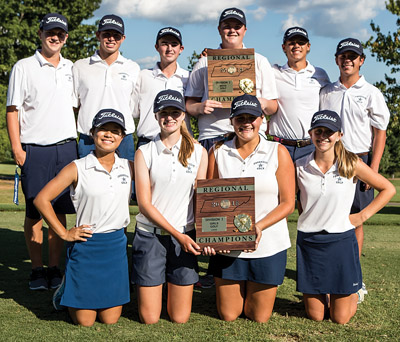 Farragut High School boys golf Region 2 Large champs, back row from left, are Hayden Ott, Antonio Farinella, Connor Price, Chad Homan, Lance Simpson and Steven Haremski. FHS Lady Admirals region champs, front row from left, are Vivian Wang, Lexanne Halama, Aynsleigh Martin and Lindsay Ott.

NORTH KNOXVILLE — Led by region medalist Steven Haremski (72) and runner-up teammate Lance Simpson (73), the Farragut Admirals boys golf team won Region 2 Large honors — and a trip to the state tournament this week in Manchester — by 37 strokes (297) at Three Ridges Golf Course Tuesday, Sept. 18.

And for a second straight season, Farragut's girls won region and made a return trip to state, led by a third-place Lexanne Halama (74) followed by Lady Ads teammate Aynsleigh Martin in fourth place (76). The Lady Admirals claimed a 17-shot victory (150) versus runner-up Maryville at Three Ridges.

Both Farragut teams took aim at a state championship at WillowBrook Golf Course in Manchester Tuesday, Sept. 25, and Wednesday, Sept. 26 (after press deadline).

Adding to the FHS boys low score in region play were top-five finishes from Chad Homan and Conner Price, who each shot 76.

Boys team runner-up Knoxville Catholic (334) edged third-place Bearden (336).

By finishing third, Jeremy Jones of Hardin Valley Academy (74) earned an individual trip to state.

Nick Etherton of William Blount beat Michael Ray of Knoxville Catholic and Bryson Morrell of Bearden in a playoff vying for the third and final individual spot for state.

Kennedy Noe of Knoxville Catholic captured the third and final individual girls spot for state.