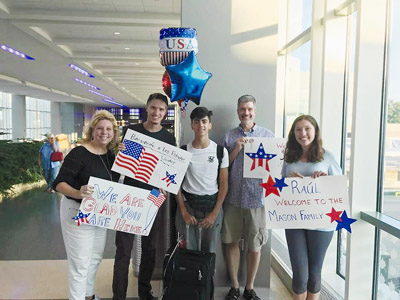 Spanish exchange student Raul Torres, center, was welcomed by his host family for the upcoming year at McGhee Tyson Airport last month. With Torres are, from left, Stephanie Mason, director of admissions and marketing for Concord Christian School, where Torres is attending; her son, William; her husband, Mike; and her daughter, Madeleine. Torres is just one of 14 exchange students at CCS this year.

Raul Torres might be far from his birthplace, but he feels right at home at Concord Christian School.

The senior from Boadilla del Monte, Spain, just outside of Madrid, is spending his final year of high school with the family of Stephanie Mason, who is the school's director of admission and marketing.

"I have felt very welcome into the family," said Torres, who was greeted at Knoxville's McGhee Tyson Airport by Mason, her husband, Mike, son, William, and daughter, Madeleine, all of whom were holding "welcome" signs and balloons.

"I am loving getting to know other people here," Torres added. "I love this country."

It actually has been the second U.S. exchange experience for Torres, who stayed with a family in Illinois during his junior year.

"But there, I only had a room," he said. "Here, I have been just like part of the family."

"Raul has been a real joy,"

Mason said. "He loves life. We are a pretty fast-paced family, and he just dove in."

Torres, who attended public school in Illinois, said he is enjoying the private school environment. He is taking a full course load at CCS, but also enjoys extracurricular activities such as playing soccer, which he played for many years in his native country.

"For me, this (school) experience has been completely different — I get a lot of attention, and they really take care of me," said Torres, who upon graduation will receive a Spanish diploma, the latter of which academically transfers to his native country.

It's not just about academics, however. Mason said she and her family are helping Torres attack his "bucket list," which includes visiting Chicago and Texas.

Torres is not the only CCS foreign exchange student this year, as there are 13 others from the countries of Germany, China, Switzerland, South Korea and Hong Kong.

Junior Sky Jin, an exchange student from Shanghai, China, has been attending Concord since her eighth grade year.

Jin has lived with four different families over the years, but the one consistency has been her academic experience, which she said was carefully reviewed by her father before she ever came to East Tennessee.

She has enjoyed many aspects of life at Concord, including its drama program, in which she had the lead in last year's production of "Charlotte's Web."

Culturally here, "Everyone is really nice," Torres said. "In the neighborhoods people will say 'hi,' but it is not that way back home."

"Here, everyone smiles at each other," said Jin. "But in Shanghai, no one ever does that.

"There, people are close (in proximity) but not close (to each other)," she added.

Jin plans to attend college in the United States, and is looking at UCLA, Boston University and New York University.

Torres said it is his hope to attend college in the United States, and has plans to perhaps study physical therapy with a sports concentration.