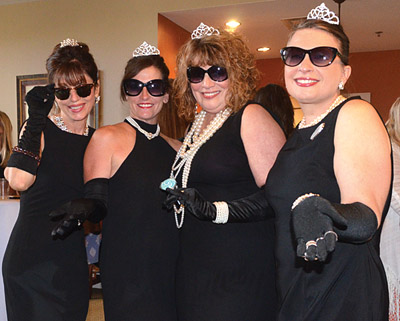 Dressing in their best Holly Golightly ensembles for the recent "Breakfast at Tiffany's" fundraiser are, from left, Mary Lynne Payne, Susan Vieira, Herbanna Dickinson and Garbrielle Blake – all representing event sponsors.

Audrey Hepburn would be proud.

A tribute to the star's iconic film "Breakfast at Tiffany's" was recreated locally Aug. 31 at Avenir Memory Care for a special fundraiser benefitting the Knoxville Alzheimer's Association's annual Walk to End Alzheimers.

Avenir employees, along with representatives from three other sponsoring agencies — Franklin & Kyle Elder Law, Home Instead Senior Care and Smoky Mountain Hospice — all wore their best "Holly Golightly" costumes, primarily consisting of slim-fitting black, sleeveless dresses, tiaras, pearls and long, slinky black gloves.

Many guests got in the spirit, too, with either matching outfits or, at least, pearls and tiaras.

True to its name, an extensive variety of donated pastries and breakfast items were sold, as were mimosas, as guests mingled in the main lobby of the facility, located at 901 Concord Road, where numerous photographs and posters of Hepburn adorned the tables and walls.

The movie played in the background on a big screen television, and Lulu Pearl, a cat owned by Payne, Avenir's director of sales and marketing, also played a part, mimicking Hepburn's character's feline in the film.

Sponsors came up with the concept on their own and worked with the Knoxville Alzheimer's Association to carry it out, said Rebecca Williams, manager of development and community outreach with KAA. Each entity also already works consistently with Alzheimer's patients and their families, which made their participation a natural fit.

"We are so very thankful to this wonderful group of women for getting together to plan and host this fun event," she added.

"From face-to-face support right here in East Tennessee to online educational programs and international research initiatives, every penny raised makes such a difference in the lives of the millions affected by this disease."

The fundraiser was quite the success and netted $1,428 for the cause, said Williams, who also sported her "Holly-ware."

The event was in preparation of the Saturday, Oct. 13, Walk to End Alzheimer's, which will be held at Chilhowee Park beginning at 10:30 a.m. The walk route will wind through both the park and the neighboring Knoxville Zoo.

An after-party is planned, then participants may re-enter the zoo, free of charge, to spend the rest of the day according to a press release.

To register for the upcoming walk, visit alz.og/walk.