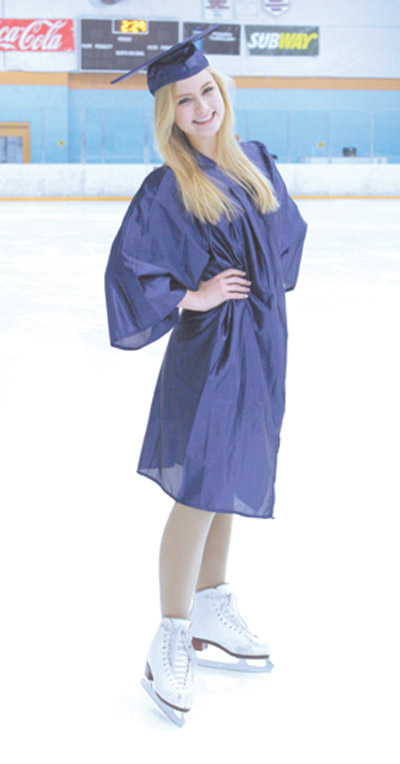 Chloe Wagner

Some girls only can daydream about being a princess, but Chloe Wagner has the chance to be more than one.

The 2018 Farragut High School graduate is joining Disney on Ice Monday, Oct 1, and will be part of its national touring company, traveling throughout North America for nine months at a time.

Disney on Ice has been sharing well-loved Disney stories throughout the world for more than 30 years under the ownership of Feld Entertainment. According to its web site, "Frozen" is one of the current Disney stories being brought to life, and next year "100 Years of Magic," featuring songs from "Beauty and the Beast," "Aladdin," "The Lion King" andmany others, will be presented.

Disney on Ice has nearly a dozen different show groups, some of which even tour internationally. Wagner said there are roughly 50 cast members, with an additional 50 comprising the technical staff and crew for each show.

She is not sure, yet, what her role, or roles, will be in the coming year, but she said she is "very

excited" about the new chapter in her life, for which she has continued to practice since she graduated in May.

"I don't know what I will be

playing, but if I was in a tree costume, I would be perfectly happy, just to be part of it," she said.

Wagner's selection was the result of many years of training and tryouts, and has been her "dream" since seventh grade.

"I realized early that I preferred to perform, rather than to compete," she said, describing performance skating as "competitive, but not AS competitive" as ice skating contests.

She participated for several years in summer performance camps, which put her in the sights of professional ice skating show producers, for whom she has auditioned in years past. This year, based on a video audition she made in February, she was accepted by Feld officials, and not required to go through the camp process.

She apparently was just what they were looking for in a Disney on Ice performer.

Being part of Disney on Ice also ties in nicely with her passion for acting and singing, which was showcased last school year at FHS's spring production, "Shrek the Musical," in which she had the lead.

Wagner's career path was no doubt influenced by her mother, Sue Jackson Wagner, whose own history as an ice skating professional included many years with Feld Entertainment following competitive skating career that included a 1984 Olympic bid representing the United Kingdom.

Her mother, who now works as an ice skating coach at Cool Sports Home of the Icearium, did not force the sport on Chloe, or her younger siblings, Aimee and Ian.

"She said 'you can skate, or you can not skate,' Chloe recalled. "She was not going to insist on it. But, I was in the Cool Sports building from the age of 2, so I figured I was already going to be there — I might as well skate."

From the very beginning, Chloe said, "I loved it, and I love that I will be able to go and do my job with it."

Her mother is supportive of her choice to skate professionally, as is her father, Larry "Toby" Wagner of Sevierville. "(My mom) wanted me to go to school, because she didn't," Chloe said.

"But, I think this will be the best education I could get. College will be there. I know it is important," she continued.

"I know I could get injured and I can't put all my eggs in one basket, so I might take a course online — maybe one a semester."

Chloe said she already has started a blog, which showcases another one of her interests — writing.

It will be a fast-paced life on the road, as she and the rest of the cast will be in a new city every week. But she does have her mother's ongoing guidance and advice, as well as her faith, as she was baptized earlier this year into the Church of Jesus Christ of Latter Day Saints.

"I know it will be an awesome experience," she said. "It's amazing to say the least. They are paying me to travel, they are paying me skate, they are paying me to do what I love.

"It is just so exciting."

You could say it's a whole new world.