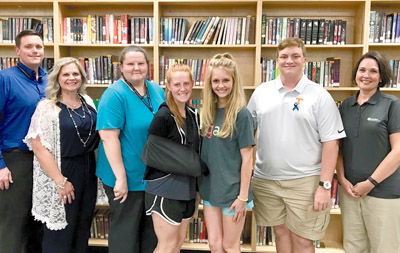 FHS Stars of the Month program sponsors from left, Eric Whitener and Teri Jo Fox (Crye-Leike Realtors), join, from left, Tiffany Johnson, September Star Staff Member of the Month; Amy Cloud, Joely Gruhn and Nick Bolinger, September student stars; and sponsor Tanya Ickowitz of Patdome Promotions.

Farragut High School announces its September Stars of the Month.

September Students of the Month are Joely Gruhn, FHS senior, and Nick Bolinger, FHS junior.

"I am always impressed by Joely in her respectfulness and politeness," said Susan Bolinger, FHS director of College Counseling, who nominated Gruhn. "She is a leader in the National Honor Society and encourages others to serve her school and the community. She makes FHS a better place to be."

FHS Spanish teacher Cathryn Beasley shared why she nominated Nick Bolinger.

"I nominated Nick because of the quality of his character. He is hard-working, respectful and genuine," she said. "His quality of work and attitude are to be envied and his kindness is a delight to all in the classroom. Nick is not only a model student but also a great example of excellent character that we should strive to display daily."

September Star Athletes of the Month are Amy Cloud, Lady Admirals soccer, and Tanner Corum, FHS football, both seniors.

"Amy Cloud has scored eight goals accounting for nearly 50 percent of the Lady Admirals offense so far this season," FHS principal Ryan Siebe said. "So far this season, Tanner Corum has three touchdowns and four interceptions and has been integral to Farragut's (success)."

September Star Staff Member of the Month is Tiffany Johnson, FHS special education teacher. "Tiffany Johnson makes a positive difference in her department. She demonstrates what is best and right with educators today," Kim Gray, an FHS assistant principal, said.

This program is sponsored by Teri Jo Fox and Eric Whitener with Crye-Leike Realtors, and Tanya Ickowitz of Patdome Promotions.