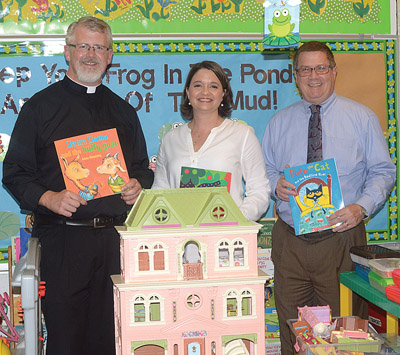 The Rev. Joseph "Father Joe" Reed, left, Saint John Neumann's new pastor, joined Janet Harrigan, SJN School director of Admissions and Development, and SJN principal Bill Derbyshire in the school's preschool to discuss changes to the preschool program, such as an extra day added for 3-year-olds to attend, a summer program and more classes.

Saint John Neumann Catholic Church and School welcomes its new pastor, the Rev. Joseph "Father Joe" Reed.

"I love it," Reed said about coming to SJN. "It's a homecoming for me because I grew up just a few minutes east of (Farragut).

"There are a lot of people in this whole community — the parish and the school — whom either I grew up with or their kids or my dad worked with them in Oak Ridge," he said. "It's just been a gift to me."

Reed, who replaced Msgr. Patrick Garrity, who retired as pastor of SJN in July, said his goal for the church is to "help people get to Heaven."

Reed said he wants everyone who comes to SJN to "feel welcome and to know the love of Christ.

"As for the school, the goals is to always raise saints," he added.

"The kids are phenomenal."

Reed, born and reared in Knoxville, attended Sacred Heart School then Farragut Middle and Farragut High schools. He was a seminarian for the Catholic Diocese before he was a monk with Conception Abbey for almost 20 years.

He earned additional theology degrees from St. John's Seminary in Minnesota and St. Vincent Seminary in Pennsylvania then taught and served as an academic advisor, spiritual director and director of liturgy at Conception Seminary College. Reed also worked in business and vocations offices at Conception Abbey and as master of ceremonies in Rome, Italy. After returning to Knoxville, he served as parochial vicar and school chaplain at Sacred Heart Cathedral.

While Reed pastors SJN, he also will continue to serve as the Diocesan Vocation director, director of Worship, Liturgy director, master of ceremonies and a Missionary of Mercy.

With the arrival of its new pastor, SJN is expanding its preschool program to year-round and offering an extra day for 3-year-old children to attend.

Previously, the school had two-, three- and five-day options for 4-year-olds but not for 3-year-olds, said Janet Harrigan, SJN School Admissions and Development director.

"Our 3-year-olds were only able to come Tuesdays and Thursdays," Harrigan said. "Now they have that (three-day) option open to them as well."

The school also has added a summer program, which will start in summer 2019.

"It will be year-round, which is great because parents are looking for that," Harrigan said.

SJN principal Bill Derbyshire said the changes were made to open up the preschool program to a wider variety of children in the community and "give them a chance to explore our Catholic faith and foundation on a daily basis."

"We also know that more parents are working, so more people need five-day care," Reed said. "Having more options available — two, three, five days and having them available year-round just helps to better meet the needs of parents, especially dual-income families."

"And, (the preschoolers) will get to go to special area classes, too, at no extra cost," Harrigan said. Those classes include library, art, physical education and Spanish.

Families can learn more about the preschool program at an open house from 11:30 a.m. to 1:30 p.m., Sunday, Sept. 30, at the school, 625 St. John Court, Farragut. They can schedule a private tour by calling Harrigan, 865-777-0077.