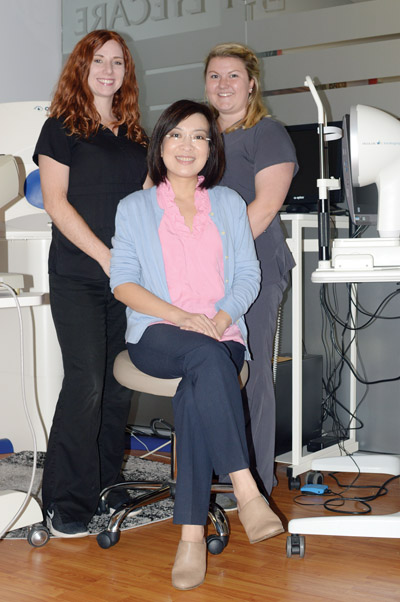 Dr. Theresa Best, seated, optometrist and owner of Vision Best Eyecare, and her staff, Candace Thorson, left, manager, and Samantha Graziano, will host an open house Wednesday, Oct. 10, to celebrate its 10th anniversary of operation.

Farragut area residents can join Vision Best Eyecare in celebrating its 10th anniversary by attending an open house Wednesday, Oct. 10.

The event, which will take place from noon to 5:30 p.m. at its office, 11663 Parkside Drive in Turkey Creek, will feature vendors such as Kate Spade, Silhouettes and Costa del Mar (sunglasses).

Representatives will be at the event with a wide array of styles, showing off their products.

There also will be hors d'oeuvres, wine and prizes.

"The first 10 people can get single-vision lenses for 1 cent with their frame purchase," Dr. Theresa Best, owner and optometrist at Vision Best Eyecare, said, adding that deal does not include bifocals or transitions.

The celebration gives attendees an opportunity to meet the Vision Best staff, see what is new in the eyewear business and get discounts and prizes, Best said.

"I love (being here for 10 years)," she said. "It's a great location, great community. One of my employees (Candace Thorson) has been with me the whole time."

Vision Best Eyecare provides eye exams, eyeglasses, contact lenses and treatment of ocular diseases.

"We do pretty much everything except surgery," Best said. "We're kind of the first line of defense. If we see something unusual, then we send (the patient) out to specialists for further investigation."

Vision Best Eyecare is a private optical operation owned by Best.

"We take our time (and) provide really customized services," she said.

Part of that service includes customized eyeglasses and contact lenses.

"And, we use the most up-to-date equipment," she said. "We have all the newest contact lenses. We keep up with the newest technology to make the experience more comfortable.

"The biggest thing people talk about is when they come in for an exam, they are scared of the air puff machine," Best added. "We don't use the air puff — we have not used the air puff for the last six years.

"We have new technology to take eye pressure that doesn't involve eye drops or air puffs."

Also, she has technology that takes an ultra-wide field of view of the retina, without having the eyes dilated, to detect early signs of retinal diseases.

Best, who opened her practice in August 2008, said she and her staff decided to hold a formal celebration in the fall.

"Oct. 10 seemed like the perfect date — 10/10 and 10 years," she said.

Best remembered what Turkey Creek was like 10 years ago.

"When we first came here, this side of Turkey Creek was bare," she recalled. "We were one of the first tenants to come into this strip.

"After that, JCPenney's and Publix started to fill up (Turkey Creek) over time," she added.

Before moving to Tennessee in 2004, Best, a Texas native, graduated from University of Houston College of Optometry and completed her externship in California.

Then, her husband accepted a job at University of Tennessee, which brought them to the Knoxville area.

Vision Best is open from 8:30 am. to 5 p.m., Monday; from 9 a.m. to 5 p.m., Tuesday and Thursday; from 9 a.m. to 6 p.m., Wednesday; from 9 a.m. to 4 p.m., Friday; and from 9 a.m. to 2 p.m. on the first and third Saturdays. It is closed the second and fourth Saturday and every Sunday.

For more information, call 865-288-3418 or visit online at www.visionbesteyecare.com.