Back-up QB, kick, pick help rescue Ads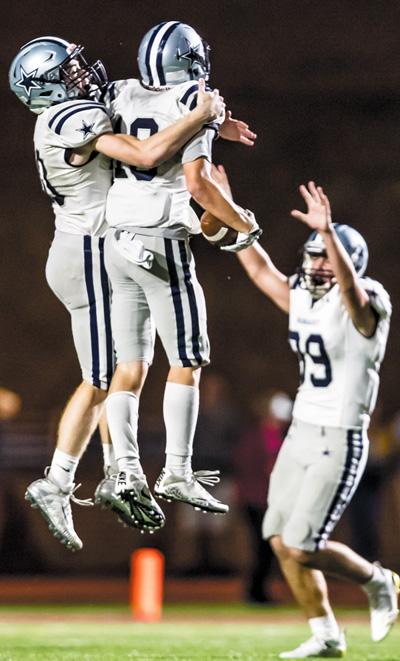 Celebrating with teammates, Wyatt Lucas holds the ball he intercepted to seal Farragut's 23-21 win at Johnson City Science Hill's Steve Spurrier Field Friday night, Sept. 28.

JOHNSON CITY — Up 20-0 in the final two minutes of the first half, the state's No. 6-ranked Class 6A Farragut Admirals stayed aggressive and went airborne in its own territory.

It proved costly, as a Science Hill interception and 46-yard return to the FHS 9 not only resulted in a late first-half touchdown Friday night, Sept. 28, but seemed to change momentum.

While the SHHS defense clamped down after halftime at Steve Spurrier Field, a pair of fourth-quarter Hilltopper scoring drives — the last a screen pass that went 66 yards for the go-ahead touchdown — gave Science Hill its first lead at 21-20 with 6:26 to play.

Despite having its most physical running back slowed a bit with an apparent ankle injury, and without its starting quarterback, the Admirals had to respond.

But quarterback Jake Evans and running back Isaiah Gibbs keyed an Admirals 78-yard march to the Science Hill 8 in the final few minutes of an eventual 23-21 Farragut victory to improve to 7-0, 3-0 in Region 1-6A.

Science Hill falls to 2-5, 1-2.

"This game was a good game for me to break out and do what I had to do to help my team get that field goal," said Gibbs, a senior who was responsible for 164 of Farragut's 357 total yards, rushing 23 times for 125 yards while catching five passes for 39 yards.

"A little yelling at the linemen got them going," Evans said. "I had faith in them.

"… We all connected and were able to get it done."

"The offensive line, we played our hearts out. This is a very good Science Hill team," senior guard Jake Rima said.

Sophomore Daniel Bethel's 25-yard field goal, at a sharp angle on the right hash mark, with 2:10 to play put FHS back ahead 23-21.

"I didn't even, honestly, notice how late it was in the fourth (quarter)," Bethel said. "I thought it was more like the very beginning of the fourth."

The Hilltoppers drove to the FHS 42, led by elusive running of quarterback A.J. Stewart.

That's the closest the home team got, as a Stewart pass went through a Hilltopper reciever's hands and into the hands of senior defensive back Wyatt Lucas. The interception ended the issue with only 50 seconds remaining.

"It just bounced off his hands and right into my hands," Lucas said.

As a receiver, Lucas caught three passes for 30 yards.

Gibbs' 36-yard run was the big play on a 47-yard scoring drive earkt, ending with the first of three Kyle Carter rushing touchdowns, from 2 yards out roughly four minutes into the game.

Quarterback Gavin Wilkinson's 24-yard dump-off pass to Gibbs keyed a 67-yard scoring march, which ending with Carter's 8-yard TD run making it 13-0 with 3:40 still left in the first quarter.

Wilkinson, a junior, finished 10 of 19 passing for 119 yards.

Evans completed three of four passes for 33 yards.

Doubling as a defensive back, Evans had an interception in the second quarter.

Jaden Gibbs, Ads senior receiver, caught three passes for 64 yards, including a 36-yarder where he went up over two Hilltopper defensive backs to make the catch. It set up Carter's 2-yard scoring run making it 20-0 with four minutes left in the first half.

Despite suffering an apparent ankle injury limiting his carries in the second half, Carter ended with 17 carries for 75 yards.

Caleb Kuhn, FHS senior defensive end, finished with a team-leading 10 total tackles, seven solo — five of which were minus-yardage stops.

Defensive back Jackson Fontenot, a junior, had six solo tackles. Farragut sophomore Brady Hodges landed one of his punts at the FHS 4.