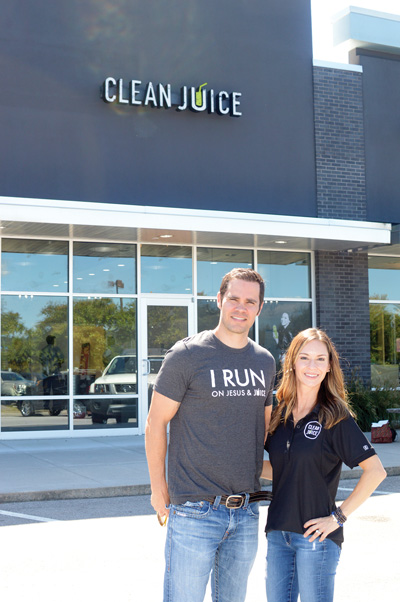 Justin and Denise Marie Horne have brought their Clean Juice franchise to Creek with plans to open their juice, smoothie and food bar in mid- to late-October at 11670 Parkside Drive.

Farragut residents Denise Marie Horne and husband, Justin Horne, have purchased the franchise for Clean Juice with plans to open an organic juice, smoothie and food bar in mid- to late-October in Turkey Creek.

"We are shooting for a grand opening Oct. 27," said Denise, who will be operating the business at 11670 Parkside Drive with a general manager, Sarah Withington. A ribbon cutting, hosted by Farragut West Knox Chamber of Commerce, is set for 11 a.m., Monday, Oct. 22.

Justin, a health care executive for a company that provides anesthesia for pediatric dentists, will be consulting for Clean Juice.

Along with juices and smoothies, the juice bar also will offer acai bowls, which Denise described as having a consistency of smoothie or frozen yogurt.

"We top it off with fresh fruit, granola and other items," she said. "We also offer avocado toast, almond butter toast, oat bowls and we will be rolling out salads in the near future."

"Our product is entirely organic, which follows (Clean Juice's) honor mission of delivering easy, healthy on-the-go access to plant-based food," Denise added. "That's what makes Clean Juice special and sets us apart.

"We're (U.S. Department of Agriculture)-certified. We deliver a truly healthy product, freshly made and in-house, and the best part is that it tastes really yummy. We add no refined sugars, so it truly offers something for everyone.

A vegan- and vegetarian-friendly product, "We meet dietary restrictions," she said, adding there are options for gluten-free or dairy-free diets.

"We cold-press (juices) in-house," which allows the juice to last longer without losing nutritional value."

The Hornes moved to Farragut last December.

"I discovered Clean Juice in Tampa, Florida," Denise said. "My journey is more of a personal one because I suffer from a few auto-immune conditions, so I eat mostly a plant-based diet.

"And when the Clean Juice in Tampa opened up, I became a regular customer and I fell in love with it," she added.

Becoming devoted Clean Juice customers, "We noticed a difference in how we were looking and feeling. It became our favorite post-workout destination," Denise said.

"When my husband and I decided to move to the Knoxville area, we couldn't live without (Clean Juice), so we thought we would have to get a franchise and bring it with us," she added.

"I knew that Knoxville would be ready for its first organic

juice, smoothie and food bar. I felt it was good timing for this community."

Denise said she had been scouting out the Turkey Creek area since December 2017.

"I patiently waited for the right spot to open up; and when we found out Corks was going out of business, we made our move," she said. "It's the perfect spot for us. We're right in between Neighborhood Barre, Orangetheory Fitness and Go Glamourous: Beauty Bar, an organic salon.

"We share common clientele, so we thought that would be a good fit for us," Denise added.

With I Love Juice Bar close by, Denise said, "We're going to be wonderful neighbors.

Denise said she and Justin were ready to leave Florida. "We had been there our whole lives and were ready for a new adventure," she said. "We fell in love with Tennessee after many years of visiting and family vacations.

"It just looked like such a

wonderful place to be and raise a family."

Clean Juice will operate from 7 a.m. to 8 p.m., Monday through Friday; from 8 a.m. to 8 p.m., Saturday; and from 10 a.m. to 6 p.m., Sunday.

For more information, e-mail t turkeycreek@cleanjuice.com.