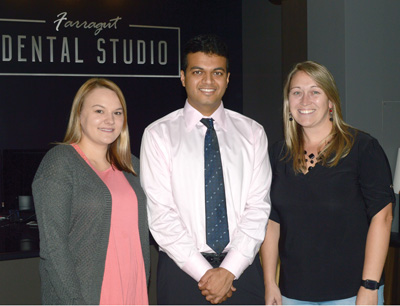 Dr. Kairav Vyas, center, joins Charity Hammond, left, dental assistant and front office manager, and dental assistant Sarah Ritchie in welcoming new patients to Vyas' practice at Farragut Dental Studio, 11201 West Point Drive, which opened Aug. 15.

Farragut Dental Studio, 11201 West Point Drive in West End Center, offers a calm, inviting environment for patients.

Kairav Vyas, D.D.S., opened Farragut Dental Studio Aug. 15 and is accepting new patients. He anticipates holding a grand opening in a couple of weeks.

The office provides patient-centered care, Vyas added.

"We give patients most importance," he said. "And, we use the latest technologies that are out there.

"We have lasers; we have digital x-rays; our office is paperless," he added.

Farragut Dental Studio is a general dentistry practice, providing cleanings, fillings, crowns, implants, root canals and extractions for all patients ranging from children 6 months old to the oldest senior adults.

"Our mission is to give people the best care possible using the latest technology and best environment," he said.

Inspired by his father, Kamlesh Vyas, who still practices dentistry in India, Kairav Vyas, D.D.S., is a second generation dentist.

"I've been involved in dentistry all my life," he said.

Vyas went into dentistry in 2004, starting his studies in India before going to New York University and graduating in 2014.

Meeting his wife, Harita, who is from Kingsport, in 2013, "She brought me to Tennessee, and I got a job in Alcoa in 2014," Vyas said.

In 2016, he opened a dentist practice in Fountain City in North Knoxville, but the Vyases bought a home in Farragut a year later so he decided to move his practice to Farragut to be closer to his home.

"I was looking for a location in Farragut for a long time, and this building just came up," Vyas said. "It was just so convenient for everyone because the school is right next door.

"Parents can drop off their kids," he added.

Farragut Dental Studio is open from 8 a.m. to 5 p.m., Monday through Thursday. It is closed Friday and weekends.

"If there is an emergency, I will (open) on weekends," Vyas said.

To book an appointment, call 865-765-7725.