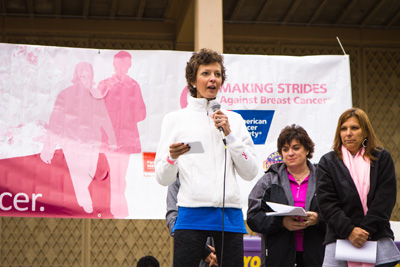 Farragut High School alum Ashley Slagle addresses the crowd at the 2012 Making Strides Against Breast Cancer Walk, which she helped bring to Knoxville. Also pictured are Haley Goldfeld, at right, and local radio personality Kim Hansard. Sadly, Ashley lost her battle against breast cancer five years ago, but her family is still supporting the effort and raising funds for and awareness of the disease, most notably this Friday, Oct. 5, when all Farragut schools' staff and students are asked to wear pink, as well as wearing pink to the Friday night football game against Dobyns-Bennett.

Ashley Slagle may be gone, but her legacy continues to touch Farragut and the surrounding community.

The former Farragut High School graduate, who passed away five years ago from breast cancer, remains the driving force behind her family's continuing efforts to raise awareness and funds for the disease, especially during October, which is Breast Cancer Awareness Month.

Her sister, Stephanie Thompson, also an FHS graduate and current Farragut Intermediate School PTA president, has spearheaded a drive for this Friday, Oct. 5, that would involve all four Farragut schools and culminate in a football game "Pink Out" drive that could net FHS $5,000.

"Farragut Primary, Intermediate, Middle and High schools will be wearing pink (Friday) to support breast cancer awareness, and all the families affected by this terrible disease," said Thompson.

The focus leads up to the FHS football game against Kingsport Dobyns-Bennett, starting at 7:30 p.m. at FHS's Bill Clabo Field, during which guests are encouraged to wear pink, and funds will be raised for the American Cancer Society. Organizers also will paint guests' hair pink and ink temporary pink ribbon tattoos.

The football game is one of six statewide "Crucial Catch" games hosted by the American Cancer Society and supported by the NFL's Tennessee Titans. The school raising the most ACS donations will receive $5,000 from the Titans, Thompson shared.

Slagle's family has continued to support the efforts of the ACS, with an ongoing "Prayer Warriors" team, which consistently is the top "friends and family" team fundraiser in Knoxville, Thompson said.

They also remain committed to the Making Strides Against Breast Cancer 5K walk, which this year is Sunday, Oct. 21, at World's Fair Park.

"When she lost her battle against breast cancer five years ago, my mother and I continued her fight by volunteering with the ACS on the walk committee," Thompson said.

It is especially fitting, since Ashley was instrumental in bringing the Making Strides Against Breast Cancer 5K Walk to Knoxville in 2011, her sister said. The fundraiser has been a staple since that time.

Additionally, Thompson said the family had designed "Farragut Fights" T-shirts earlier this year, which they sold for $10, with half the price being donated directly to the ACS.

"We were hoping to sell 100 shirts, but we have sold over 470," Thompson said last week. "The FHS band, dance team, cheerleaders and football boosters have really supported us."

Farragut schools and other members of the community are likely to follow suit Friday.