For a half century, Tate's School has prepared thousands of children for life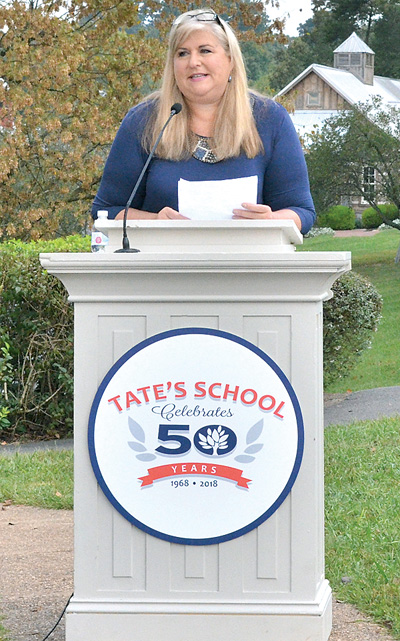 Tate's School Principal Kaye Simmons addressed the crowd at the Sept. 24 Founder's Day celebration marking the school's 50th year.

Armed with little more than a desire to provide a quality, God-influenced and morally strong academic education, LouL Tate began Tate's School 50 years ago. This year the school is celebrating a half century of preparing thousands of children for their futures.

The school kicked off that commemoration Monday, Sept. 24, with an "explosive" Founder's Day Celebration, as Tate arrived on the scene in a NASCAR racecar provided by Tate's daughter, Jodi Geschickter, who is NASCAR's only female team owner.

Tate addressed the crowd, which consisted mainly of current students and teachers, and recounted the school's beginnings and growth, from Erin Presbyterian Church in Bearden, to the 54-acre campus just off Cedar Bluff Road, that houses it today.

Tate, assisted by her husband, Joe, and later helped by daughters, Paula, Jodi and Tracey, built Tate's School into a multi-faceted institution that now serves children from the age of 3 through eighth grade.

She recounted those early days at the current location, when cows freely roamed the property, and the addition of other animals along with the progressive movement from one school building to the multiple structures that house not only classroom space, but also a new 8,500 square foot athletic facility and dining hall.

Others who took part in the Founder's Day event included Tate School principal Kaye Simmons, Tate's Strings musicians, local Girl Scouts, school vocalists, and Joe Tate, LouL's husband who played the coronet.

While Founder's Day's officially kicked off the 50-year celebration, many other events are planned too, including a Halloween Homecoming celebration for alumni Friday, Oct. 26, and a "50 Acts of Service" program in which the school will help support area foster students and their families in cooperation with the Department of Children's Services.

Plans also call for a March fundraiser, to provide student scholarships.