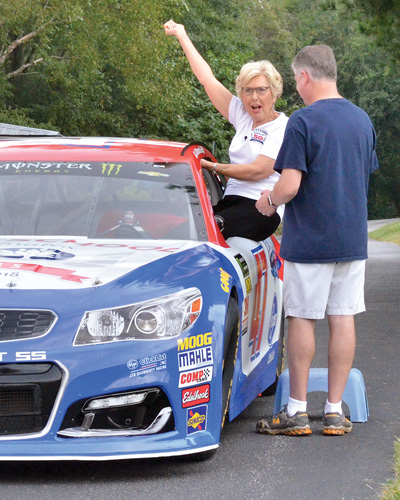 Tate's School founder LouL Tate emerges from a NASCAR racecar during the school's Founder's Day celebration Monday, Sept. 24, much to the delight of the school's students, faculty and guests. The vehicle was provided by her daughter, Jodi Geschickter, who is the only female NASCAR team owner.

A celebrity in the NASCAR world with a familiar tie joined Tate's School's Founder's Day celebration last week.

Jodi Geschickter, daughter of Tate's School founder LouL Tate, brought one of her JTG Daugherty Racing NASCAR team vehicles to the event. Geschickter is the only female team owner in NASCAR, co-owning the team with with her husband, Tad, and partners Gordon Smith and Brad Daugherty.

Geschickter is a Webb School of Knoxville graduate who joined her husband in the NASCAR field in the early 1990s, becoming interested in the sport while he was working for Procter & Gamble, which was a sponsor of a car in the NASCAR Sprint Cup Series.

They started on the ground floor, literally, according to their web site bio, with little more than a dirt floor barn and a handful of tools, in 1994.

After 15 years of hard work, they became one of the most tenured teams in the NASCAR Nationwide Series.

By the end of 2009 they had three wins, six pole awards, 29 top five finishes and 103 top 10 finishes with drivers that have included seven-time NASCAR champion Jimmie Johnson, former NASCAR champ Bobby Labonte, former Australian Super Car champ Marcos Ambrose plus Rich Bickle and Stacy Bires.

The Geschickters joined forces with former NBA star Daugherty and Smith, and have seen their teams race at Daytona and the Brickyard 400.

Currently, A.J. Allmendinger is behind the wheel of the JTG Daugherty Racing Team's No. 47 Kroger ClickList Chevrolet SS, while Chris Buescher is driver of the No. 37 Chevrolet SS team.