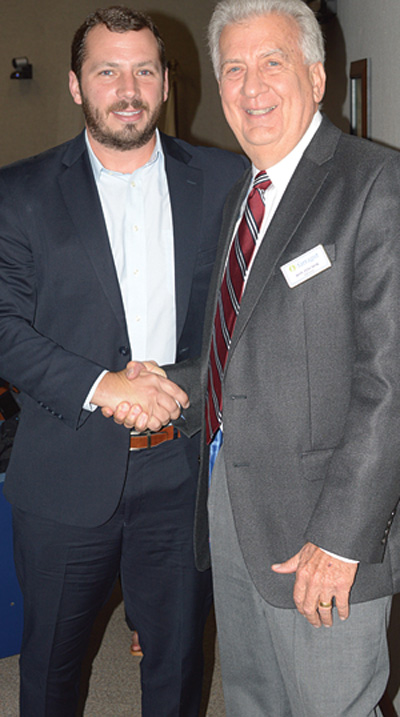 Drew Burnette, left, newly appointed Town of Farragut South Ward alderman, is congratulated by fellow South Ward Alderman Ron Pinchok following Burnette being appointed by a 3-1 vote of the Board during its meeting Thursday, Sept. 27.

Drew Burnette's salesmanship earned him the appointment to Farragut Board of Mayor and Alderman's South Ward seat.

The Board voted 3-1 to appoint him during its meeting Thursday, Sept. 27. Burnette will fill the seat, which was left vacant when Ron Williams was elected mayor, until August 2020, when Burnette could run for re-election. "Going forward, you are going to see something positive. We've got a good Board," Williams said. "We've got a lot of great things going. Stay tuned."

"I'm very humbled," Burnette said. "I'm very excited to represent the South Ward of Farragut. It's a great Town, great people.

"I'll be excited to hear what (the Board members) say is important, as well as getting versed on what's currently being worked on," he added.

Williams made the motion to appoint Burnette. Vice Mayor Louise Povlin; and Alderman Ron Pinchok also voted for Burnette, Alderman Scott Meyer, who nominated Scott Russ, cast the dissenting vote.

"I wish I could have had all of them," Meyer said. Even though his first two picks were Robert "Bob" Hill and Scott Russ because of their experience, Meyer contended, "I definitely think that Drew's going to do a fantastic job."

"I would not have been unhappy with any (of the candidates)," Povlin said. "They all have a passion for Farragut. It was a tough call."

"You all have good qualities, strengths and talents we can use," Pinchok told candidates. However, his choices leaned toward Burnette and Russ.

"You are what I think the South Ward is looking for," Pinchok told the two men.

"All of (the candidates) were great," Williams later said. "Mr. (Robin "Bob") Hill probably had the most experience over anyone in the room — he would have been a good choice — but he didn't want to run for re-election.

"Mrs. (Joanna) Richards didn't have the experience in government, but she had a lot of experience in health care," he added.

Povlin suggested Richards would be a good liaison between the Town and senior citizens instead of the alderman position.

"I know that our planner is going to start doing neighborhood inspections, making sure the houses are maintained," Povlin said. "I think we have a need for a senior-type liaison committee for people who cannot maintain their homes and need extra assistance."

Williams agreed with that suggestion.

"Scott Russ is going through the Introduction to Farragut class and Tony Carasso has gone through it. Both are good candidates," Williams said, adding they bring knowledge of banking and purchasing.

But Burnette stood out to Williams because of his extensive experience in sales.

Having been in sales himself during his lifetime, Williams said, "I recognize a good salesman."

When the Town expands McFee Park, Williams said the Board would need such a person to help sell the park to potential "build sponsors," which in turn would pay for the pickleball courts, dog park and other amenities.

"That (build sponsor concept) is real popular in Middle Tennessee," he added. "We need someone in sales to talk to potential sponsors."

That salesmanship also will be needed with the development of Town Center to attract potential tenants, he added.

"He'll do a wonderful job," Richards said.

"I think (the vote) went well," Carasso said. "I listened to everybody's resume. I thought Drew was the most qualified."

"I think (the Board had a lot of really great candidates that had diverse backgrounds," Russ said. "Every person up there was bringing something different to the table that would be valuable.

"In the end, I think Drew Burnette's nomination and election was a clear choice."

"We had six good candidates, and we all made our case," Hill said. "Any one could have been a good selection.

"I was impressed with the compassion (of Richards)," he added.