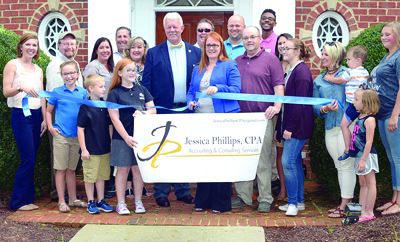 Jessica Phillips, CPA, Accounting & Consulting Services, held a ribbon cutting, hosted by Farragut West Knox Chamber of Commerce, which shares its office space at 11826 Kingston Pike, Monday, Oct. 1. On hand were Jessica Phillips, center; husband, Kyle Phillips, to Jessica's right; her children, Bryce Phillips, 7, third from left, Katie Phillips, 10, fourth from left, and Kylie Phillips 14, to the right of Kyle Phillips; Farragut Mayor Ron Williams (blue coat); FWKCC members; and friends.

Jessica Phillips, CPA, brings a personalized approach to her practice, Jessica Phillips CPA, Accounting & Consulting Services.

She opened at 11826 Kingston Pike, Suite 210 — in the same building as Farragut West Knox Chamber of Commerce — the middle of August. The Commerce hosted a ribbon cutting for her firm Monday, Oct. 1.

Julie Blaylock, FWKCC president/CEO, said she is thrilled Phillips has joined the Chamber.

Phillips said the ribbon-cutting event was her first outreach effort in the community.

"It's a nice atmosphere here (in Farragut)," she said.

Phillips provides tax preparation for small- and medium-sized business businesses and individuals, bookkeeping, payroll, financial reviews and preparation and tax planning and consulting.

"I think I offer a personal relationship with my clients," she said. "I'm dedicated to giving them the best service possible.

"I work for the clients — not the IRS," Phillips said. "I want them to know I'm going to fight for them and try to get them

the best tax position within the means of the law.

"I always give a professional service and I'm committed to getting the clients' work done on time," she added. "I spend countless hours doing things just to save them money."

A certified public accountant in Crossville since 2006, she became a CPA in 2002 and worked for another firm before deciding to start her own practice.

Opening her own business allowed her to be a mom to her three children while she worked, Phillips said.

"I had kids at home," she said. "I wanted to be home for them, be able to set my own hours and be independent."

Phillips had chosen her career path while in high school.

"My teacher made it sound very interesting," she recalled. "I wanted something in business, I was good at math and it sounded like the possibilities for accounting were endless. There were lots of different areas you could work in."

She started her own business in Crossville, her hometown, because she likes small towns. However, her husband, Kyle, worked in Knoxville, so she said, "We knew, at some point, we probably would move to this area.

"We found a school here we liked for our kids," Phillips said.

The family moved to Hardin Valley in early August and enrolled the children into Concord Christian School.

Because she is from a small town, Phillips said the Farragut area also had a small town feel she liked.

She said business hours are by appointment.