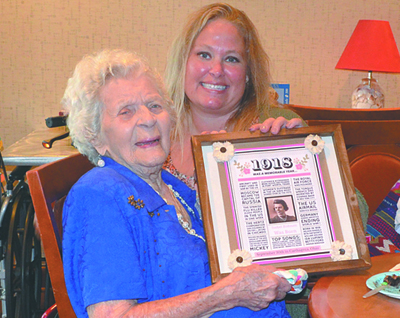 Isabel Drerup celebrated her 100th birthday twice — once with a party at NHC Farragut Assisted Living Wing, where she makes her home, and one with a family dinner on her actual birthday, Sunday, Sept. 30. Here at the NHC celebration she is with her granddaughter, Diane Knudsen, who presented her with a special commemorative plaque listing various milestones from 1918 — the year of her birth.

Isabel Drerup makes for a feisty centenarian.

She celebrated her 100th birthday Sunday, Sept. 30, and in an interview a week earlier, she declared several times she was not sure why there was so much fuss about it.

"There are a lot of other people who are 100," she said emphatically. Regardless, there is only one Isabel, who has lived at NHC Farragut's Assisted Living Wing for the last several years after a broken hip and surgeries left her unable to live alone.

The Carthegneia, Ohio native has lived in East Tennessee since 2006, when she and her late husband, Bill, moved to Tellico Village.

Isabel was born in a log cabin, the oldest of five children. As an infant, she lived with her mother on her grandparents' farm as they waited for Isabelle's father to return from service in World War I.

She and Bill married in 1941, enjoying 66 happy years of marriage until his death in 2007.

"I enjoyed life," she said. "My husband and I got along. We never argued or disagreed."

"She and dad were glued together," recalls the couple's son, Bill Drerup. "Where one went, the other went."

"She adored him, and he adored her," added Isabel's granddaughter, and Bill's daughter, Diane Knudsen.

The couple also had a daughter, Donna Jean.

Bill went to work in the tool and dye industry, and Isabelle raised the children until deciding to go to work herself after they were older. She worked at several jobs including serving as secretary to the priest who also was the principal of a local Catholic high school. The Drerups retired to Port Charlie, Florida, where they enjoyed three decades of Florida life and a new career.

"After they retired, they went into the lawn business," Bill Jr. said. "They might do three lawns a day; each had their own lawn mower."

While necessary, the move was a hard one, Isabel remembered.

Commemorating Isabel's birthday, her family threw her a party at NHC Friday, Sept. 28, then took her out to dinner on her actual birthday two days later.

They drove to Calhoun's in Isabel's Cadillac SRX, a car she insisted would be her last.

"She was able to drive it until she was 97," Bill Jr. said.

He described his mother as being a survivor, after enduring the deaths of her husband and daughter within a 29-day time period.

"She survived that, and met friends," he said. 'She has always been very positive and is really smart — and sharp as a tack."

Not to mention a little feisty.