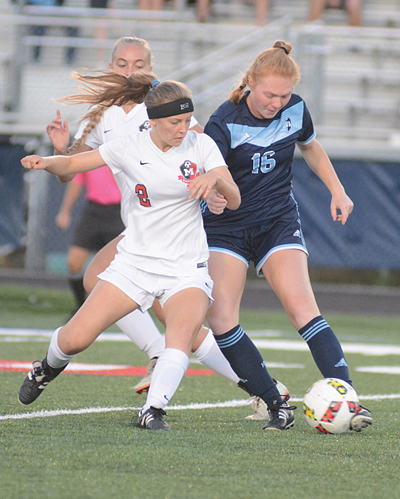 Karly Livingston (16), HVA defender/midfielder, battles Maryville's Ashlynn Taylor for ball possession.

HARDIN VALLEY — At least Hardin Valley Academy's girls were physical.

Though the Lady Hawks didn't score during this District 4-AAA girls soccer tournament championship game, losing to Maryville 2-0, "both sides were extremely physical," MHS head coach Steve Feather said about this Thursday night, Oct. 11, showdown at HVA. "They're probably, with the exception of Houston, the most physical team that we've played. I think they're the second best team we've played all year (behind Houston)."

However, "not physical enough," said Hardin Valley head coach Jessie Stephens, whose team fell to 12-6-3. "We had a gameplan but we didn't come out and execute it very well. ... We got sloppy in areas we shouldn't have been."

Despite these problems, "We have some girls that are fighters. McKenzie (Smith) is a fighter, Karly (Livingston) is a fighter. I thought Kaiya (Cruze) and Karris (Anastasio) came out and they really fought hard for us," Stephens said. "We've got some girls who want it. We've just got to figure out how to complete a whole game."

As for the Lady Red Rebels, "Credit Maryville ... they're a dang good team," Stephens said. "A job well done. They had a gameplan and they executed it."

Improving to 16-1-3 overall, Maryville hosted Oak Ridge, District 3-AAA tourney runner-up, at MHS in a Region 2-AAA semifinal Tuesday night, Oct. 16. Hardin Valley traveled to 3-AAA tourney champ Powell (after deadline).

Winners play for a region title tonight, Thursday, Oct. 18.

The Lady Hawks and Lady Red Rebels tied 1-1 in their regular season match at HVA. With these teams tying for the regular season 4-AAA title, Hardin Valley earned tournament home field advantage due to a goals-scored tiebreaker.