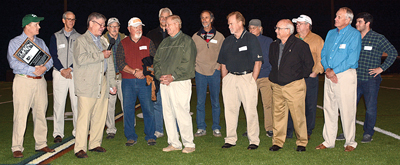 On the 50th anniversary of Webb School of Knoxville's first undefeated football team, members of that 1968 team came back to honor then head coach Jim McClain (center with green top) during halftime of the Spartans' varsity football game versus Chattanooga Christian Friday night, Oct. 12, in David Meske Stadium. Also a track and field coach and member of the school's science faculty from the 1965-66 through 1970-71 school years, McClain was presented a special plaque commemorating the 1968 season by team members. An inscription on the plaque praised McClain "for his lessons on leadership and the importance of being a role model in your community."

KNOXVILLE — Using speed and a bend-but-don't-break defense, which gave up only seven points, Webb School of Knoxville football has a two-game winning streak.

Jahlil Jefferson, senior running back, scored on touchdowns runs of 65, 8 and 3 yards in a 35-7 Division II-A East Region win versus Chattanooga Christian in Webb's David Meske Stadium Friday night, Oct. 12.

About the 65-yarder, "It was obviously great blocking," said Jefferson, whose Spartans improve to 3-5 overall, 3-1 in region.

Elijah Howard, Webb sophomore, scored on a 51-yard run.

Alec Boruff put the Spartans up early, using a 7-yard quarterback bootleg run to make it 7-0.

"The best thing was how well our defensive line played. That allowed the linebackers to be freed up and make a lot of plays," said Turley Wall, Webb senior linebacker, among a host of green-clad defenders who, while allowing the Chargers (5-3. 3-1) to string together a few first downs here and there, bowed up and stopped CCS short of the end zone — minus one scoring drive.