Three ladies' successful battles with cancer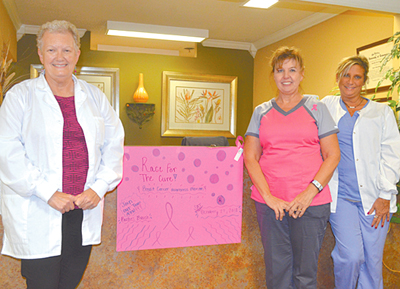 Dr. Susan Barnes, left, along with two of her employees, Teresa Bible, right, and Sam Slone, are all cancer survivors. They will be taking part in Susan G. Komen Race for the Cure as members of "Barnes Bunch" Saturday, Oct. 27.

Three ladies working in the same dental office share much more than a workspace — they are united though their individual yet successful battles with cancer.

Dr. Susan Barnes, her dental assistant Sam Slone and office manager Teresa Bible have suffered from the dreaded disease, but remain steadfast in their commitment to each other, even as Slone recently has been diagnosed a second time with breast cancer.

Slone's first bout was in 2000, and she had been in remission until a mammogram found cancer again. She underwent surgery to remove it earlier this year.

Slone credited Knoxville Comprehensive Breast Center for finding the recent mass.

"It was so small, I could not have felt it on my own," she said. "The mammogram saved my life, well — I believe the Lord saved my life — but without the mammogram they would not have found it."

Surgery removed the newly-found cancer, which mimicked

the first in that it was in almost the same place and was not invasive. She also was prescribed Tamoxifen, which she will take for the next five years, and radiation also was recommended.

But Slone was hesitant.

"My family wanted me to, and so did two doctors," she said.

It was Barnes who provided the tipping point.

"She gave me 'that look,'" Slone said, as she glanced at Barnes. "She gets onto to me for not getting a flu shot."

"I just told her that was not acceptable," Barnes said with a smile.

Slone agreed, and recently completed radiation. Except for some tiredness, she said she had few side effects.

Bible, who also is a breast cancer survivor, had a much harder time of it. She said she had no warning or symptoms when she was diagnosed in 2010 with what turned out to be Stage 4 cancer.

Being advised the disease was estrogen-fed, Bible chose to undergo a double mastectomy as a precautionary measure, which was followed up by both chemotherapy and radiation.

"Chemo was rough for me," she said. "I was in the hospital for two months and had to have a lot of blood transfusions."

Bible has been cancer free since 2011, and credits her doctors and surgeon with her successful treatment and recovery.

"Along with God, I feel they saved my life," she said.

Bible and Slone were both more than equipped to help Barnes when she herself was diagnosed with uterine cancer in 2015.

She, too, underwent surgery and chemotherapy following her diagnosis.

"Teresa was a big help for me with that," Barnes said. "Especially with the chemo.

"We all help each other here," she added. "We are cancer buddies."

"They are both my heroes," Slone said. "I didn't go through what they did. How can you complain (after knowing) what they've been through?"

All three agree their experiences have enabled them to help others.

"I (recently) met a lady who had just been diagnosed, and I told her some things that helped me, and she was so thankful," Slone said.

"Having cancer has helped me better deal with my patients," Barnes added. "It has helped me be more knowledgeable and be able to better treat patients undergoing treatment."

The three also are busy planning for the upcoming Susan G. Komen Race for the Cure, which will be Saturday, Oct. 27, consisting of a 5K race and a 1-mile family fun walk.

It will be the 25th year Barnes has hosted a team under the "Barnes Bunch" moniker.

It is a cause she has supported even before enduring her own bout — Barnes set up her practice in 1996, then started a race team the following year.

Barnes said they typically have six to 20 team members at the event, and are always looking for more participants.

Anyone interested in supporting the "Barnes Bunch" can visit the office, located at 10434 Kingston Pike, Suite 4 (behind TVA Employees Credit Union), or by calling 865-531-2266.