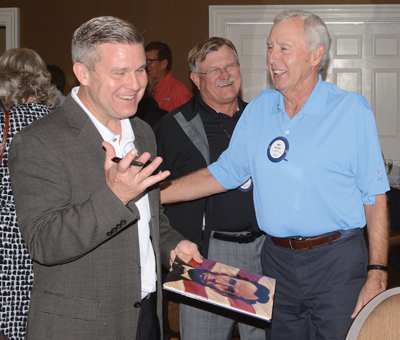 Mark Packer of Farragut, left, afternoon news anchor/sports anchor at WVLT-TV Channel 8 (CBS), has a few laughs with The Rotary Club of Farragut members Tom Marsh, center, and Ray Fisher following Packer's address as featured speaker during the RCF meeting Wednesday, Sept. 26, in Fox Den Country Club.

Mark Packer of Farragut recalled some valuable advice from his mother, Paula Packer, as a youngster growing up in Dallas-Fort Worth — advice that would indirectly benefit thousands of students several years, and hundreds of miles, later.

"My mom's advice always to me, and to my brother and my sister, was 'don't be afraid to throw it up against the wall, and if it doesn't stick that's OK,'" said Packer, afternoon news anchor/sports anchor at WVLT-TV Channel 8 (CBS) and long-time Knoxville TV personality.

"'You're no worse off than before you threw it.'"

He addressed The Rotary Club of Farragut's as featured speaker during its Wednesday, Sept. 26, meeting in Fox Den Country Club.

That advice helped Packer get up the nerve to approach James "Big Jim" Haslam, Pilot Oil Corporation founder, with a proposition that would benefit the athletic facilities, and the overall academic financial status, of 13 Knox County Schools public high schools.

"The Field of Dreams happened three years ago in the spirit of my mother," Packer said about persuading Haslam to fund artificial turf football fields for all 13 high schools — plus an academic cash contribution to each.

Packer said his motive was "to change the landscape of our schools. … We need to get more kids moving and get more kids healthier. And we all know to do this is to open up these football fields."

After compiling cost estimates, "I went in with Mr. Haslam, we were visiting in Mr. Haslam's office.

"I was really impressed with him and his spirit," Packer added.

Advising the Pilot mogul there was an $8.7 million estimated cost, Packer recalled Haslam saying, "'I'm going to put the ball in your plate and see how you handle this question: what is the negative in this?'"

Packer said he responded, "'It's going to be another instance of those Haslams just giving money towards athletics and towards football.'

"And he said, 'absolutely. So how do you solve that problem,'" Packer added.

Saying he was making it clear to Haslam, "'I'm not trying to spend your money,'" Packer said he suggested, 'Why don't we give $100,000 to each of the 13 schools in the name of academics and education, and let the schools do what they want to do with helping kids in the classroom?'

"'It's your son (Gov. Bill Haslam) who has mandated the One-to-One compliancy across the state,'" he added about his answer. "'So if your son has this requirement, I feel like maybe you could help to handle that requirement.'

"And he started laughing, and his grandson said, 'I was thinking the exact same thing.'

"Then ("Big Jim") said, 'I love it.'"

Packer recalled Jim Haslam giving him two pieces of advice: "'No matter what you try to do for good, someone will always try to find the negative in that.'

"'And the second thing is, the key to relationships and the key to business always is: as soon as you can help everybody you can get what they want, you will then get what you want. But your focus has to be on helping other people get what they want before you get what you want.'"

While Farragut and Bearden high school were two of the first handful of Knox schools to receive the benefit and have their fields and donations in place for the 2016-17 school year — following a random draw — Hardin Valley Academy's new football field was installed just prior to the 2018 season.

A "high school quarterback" who said he "knew he wasn't going to play" college football before graduating from Texas Christian University, Packer said he and his wife landed in Knoxville in 1996 because "we decided we wanted to try and find a job in a place with the best college football in America.

"… At the time, 1996, Knoxville, Tennessee was one of the best places for college football," he added.