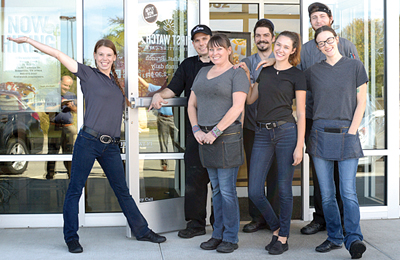 First Watch general manager Rhonda Eades, left, leads the restaurant's team, from left, Cory King, Andi Rogers, Dakota Pepper, Jamie Breslin, Meagan Coulter and Leonard Ogle, in welcoming the community to First Watch, 11682 Parkside Drive in Turkey Creek, as it celebrates its fifth anniversary. It opened Oct. 21, 2013.

As a thank-you to the community, which has supported it for the last five years, a Turkey Creek restaurant is holding a week-long fundraiser to help give a little something in return.

First Watch opened at 11682 Parkside Drive on Oct. 21, 2013, and was the first location for Knoxville-based franchise group, Capstone Concepts, LLC,

Now, Capstone is about to open its eighth location.

"It's been an awesome journey," said Nadim Jubran, marketing and business development manager for Capstone Concepts, LLC. "We're very thankful for this community."

So to celebrate that milestone, Capstone Concepts, LLC, is helping to raise funds for a stage at Founders Park at Campbell Station.

First Watch will be collecting donations Sunday Oct. 21, through Sunday, Oct. 28, and will match up to $5,000 in donations toward the project.

"Guests can come in, give $5, give 20 cents, but we're going to match up to $5,000 of that," Jubran said.

"It's wonderful," said Sue Stuhl, Farragut Parks and Recreation Department director. "We love to partner with businesses.

"We've done that before with First Watch on a greenway bench, and we are really excited about this (project) and thankful they included us in their five-year celebration," Stuhl said, adding the money raised with help fund a permanent stage.

"We think this project is unique, fun and, most of all, tangible for many years to come," Jubran said. "It will add to the already good experience for the (Lawn Chair) Summer Concert series and offer more flexibility for other events in the Town.

"That's the real benefit here," he added. "That space is right close to our restaurant. We do Light the Park there.

"We just see the community gathering places, and that's one of the more special ones.

"Originally, when I talked to the Town, we were talking about doing something to benefit the community in a tangible way," Jubran said.

As he talked with Town staff about its parks and trails — the staff mentioned, "We've got a stage we've been wanting to do."

"That's perfect," Jubran said.

Monday, Oct. 22, the community is invited to join First Watch's staff at the Turkey Creek location for a day of celebration and giveaways.

The first 100 customers who arrive will receive a First Watch ceramic coffee mug, and all customers that day may enter to win a free weekly breakfast for two for a year, Jubran said, adding the winner will be announced at 2:35 p.m., that day.

Yet, "beyond celebrating the first five years in Knoxville, this is about saying 'Thank You' to our local customers and awesome staff who have made First Watch a growing, successful part of this great community," said James Geib, chief operating officer for Capstone Concepts, LLC. "Without the people who come through our restaurants each morning, we would not be here today. We are grateful for these five wonderful years and look forward to the next five."

Capstone Concepts, LLC, has a territory running throughout East Tennessee, western North Carolina, southern Virginia and northern Georgia, Jubran said.

"This is our first one of our (First Watch) locations," he added. "There were 100 First Watches, but this (Turkey Creek location) is the first one in (Knox County), in our territory."

"First Watch is the largest and fastest growing daytime-only restaurant concept in the United States with more than 340 restaurants in 30 states, including more than 275 First Watch restaurants, 65 The Egg and I restaurants and one Bread & Company restaurant in Nashville," he said.

Since 2013, local franchisee Capstone Concept's own locations have expanded to include First Watch restaurants in Knoxville, Chattanooga and Johnson City; two Mr. Gatti's Pizza restaurants; and The Egg & I restaurant near Farragut.

Capstone Concepts, LLC., was honored with First Watch Restaurants' prestigious Franchisee of the Year award in 2017.

The restaurant offers a menu that allows customers to be as health-conscious or indulgent as they wish, Jubran said.

"First Watch's curated menu takes an elevated approach to traditional and innovative offerings made to order using farm fresh ingredients," he added. "It includes crave-able items, such as avocado toast, smoked salmon eggs Benedict, farm stand breakfast tacos and lemon ricotta pancakes."

The restaurants also offers healthy favorites, such as homemade granola and pico de gallo, organic greens, house-roasted vegetables and cage-free eggs, along with more traditional breakfast, brunch and lunch offerings.

It serves it's new Project Sunrise coffee, grown by an independent group of female farmers in Huila, Colombia, as well as options from its Juice Bar — including the best-selling Kale Tonic, juiced in-house daily using only the highest quality fruits and vegetables, Jubran said.

First Watch is open from 7 a.m. to 2 p.m., seven days a week. It offers complimentary newspapers, free Wi-Fi Internet access and carry-out service.