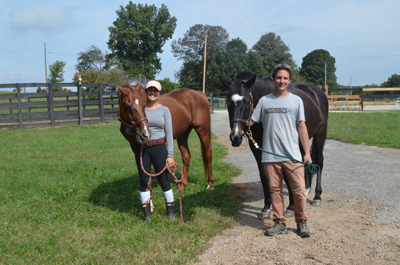 Shawdee Rocha, left, with Daisy and her husband, Marcelo Rocha, right, with Beau own and operate Ashva Equestrian in Hardin Valley.

Professional horse rider and trainer Shawdee Rocha's new Hardin Valley business is designed to share her nationally-honed equestrienne talents with eager riders of all skill levels.

Rocha opened Ashva Equestrian along Watt Road about a month ago with the help of her husband, Marcelo Rocha, and support from her family and local members of the horse community.

"It is a great location, and everyone has been very welcoming," she said of the 12-acre tract featuring a multi-stall barn and an array of exterior training equipment.

"We are excited to be here."

Rocha has an extensive riding and training background, beginning as a pre-teen growing up in Knoxville. She moved back to her home state of California six years ago, where she pursued her equestrienne skills in earnest and turned pro as both a competitor and as an assistant trainer.

She said she had been planning to return to the Knoxville area to begin Ashva since the beginning of the year, as the East Coast has a large professional riding contingent, too, with many top shows in North Carolina, Kentucky and Florida.

Rocha also noted there is a "huge circuit in Nashville" in what is a growing industry, and she hopes she will be able to tap into that as well.

The idea of having her own horse-centric facility "has been a dream since childhood," Rocha said. "I have a real passion to be able to share what I know with other people."

It is one her husband, Marcelo Rocha, an animal lover and biologist who worked in shark conservation, has come to share as well. The couple married in April, and Marcelo said the venture "has been a pleasure for us to do together.

" I am loving to be part of this, to be part of my wife's dream," he added.

Rocha has planned Ashva as a "boutique program" consisting of a small number of lessons on either "Daisy" or "Beau," both older horses that already had the training Rocha needed.

"I like older horses," she said, noting Beau is 19 and Daisy is 26.

"I think (they) are better" to help teach the riding process.

Although Rocha is leasing the horses for now, she hopes to have her own someday in the future — and she plans to continue competing, too.

She plans to lease out the remaining horse stalls located in the barn and may add additional horses to her own side of the business, depending on future growth.

The name for the business is as unique as Rocha's approach. It means horse in Sanskrit, the language of yoga, which is a huge component of Rocha's program.

"I have a strong yoga practice and went to yoga teacher training," Rocha said. "I implement a lot of yoga breathing and mindfulness techniques in my lessons at the barn."

Rocha has a support team in place to provide a variety of services, including veterinary, farrier, chiropractic and massage, and she has a list of professionals lined up to provide enhanced instruction opportunities.

And it truly has been a family affair, with Rocha's parents, Farhad and Sahel Naimy helping out. Her father has helped her husband on building jumps, saddle stands, a bridal rack and other outdoor training equipment, while her mother has provided many points of contact.

"Mom knows a lot of people and has really helped with marketing ideas," Rocha said. "She also has a good eye and has been really helping about setting things up and making it all look nice."

Ashva will be the site of an open house and ribbon cutting from 2 to 5 p.m. this Sunday, Oct. 21, at the property.

"We just want to meet everyone and are hoping to get the horse community out and introduce ourselves," Rocha said.

For more information, visit www.ashvaequestrian.com or call or text 865-437-7905.