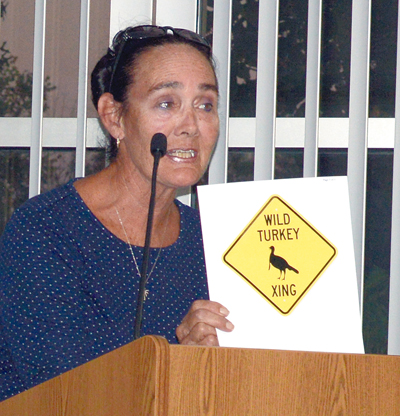 Farragut resident Mary Miller proposed "Wild Turkey Crossing" signs along Boring Road during BOMA meeting Oct. 11.

A Farragut man and his daughter are looking for relief from traffic problems along Smith Road.

Baldwin Park resident Jack Ferrell proposed a marker along Smith Road, to make drivers aware someone might pull out of Boring Road, during a Farragut Board of Mayor and Aldermen meeting Thursday, Oct. 11.

Ferrell said the sign "would give us a little leeway coming out of there.

"I have a big problem getting out of (Baldwin Park) with any kind of safety," he added. "It's almost impossible. I've lived here almost six years, and the problem is only getting worse all the time.

"I went down at the intersection at Smith Road and this is what you see coming up there," Ferrell said, showing an enlarged photograph of the intersection. "There's so many cars going over the speed limit, and it's pretty hard to get out of there (at that intersection). In fact, a lot of times we just barely make it.

"I'm surprised there hadn't been but two accidents I know of," he added. "We enjoy living here, but the traffic's bad, really bad."

"You don't see many policemen, not like where they used to live in Athens," said Mary Miller, Ferrell's daughter.

Town of Farragut does not have its own police force. Instead, it is covered by Knox County Sheriff's Office.

Miller also had asked for another sign to help with wildlife around Boring Road.

"There's wild turkeys all back there on Boring Road," she said. "We were wondering if, maybe, we could get a little 'Wild Turkey Crossing' sign because they are in the street; and I don't think people would drive real fast there, but still it would be a shame to see the little wild turkeys hit," she said.

The turkeys are on both sides of Boring Road — at the section next to Ingles, heading onto Kingston Pike, and the section heading onto Smith Road.

"We can talk about (the signs) with our engineer," Vice Mayor Louise Povlin said. "He's wonderful about making sure our signs are appropriate signs.

"Mr. Ferrell, you're not the first person who has complained about getting out of your neighborhood," she added. "Rose Ann (Kile), who's on our Planning Commission has said the same thing, and that is something we need to address."

She noted Prestwick Place, which is along Grigsby Chapel Road, has a warning light as a car approaches. "I'm wondering if it's something that may need to be considered in that area," she said, promising to talk with Town engineer Darryl Smith.