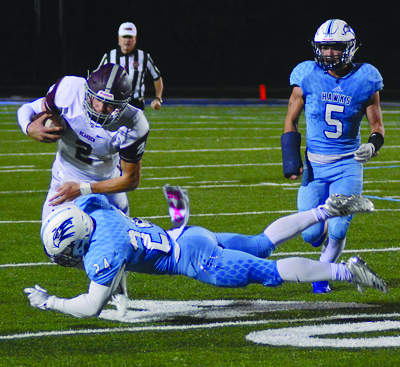 Nick Filipkowski, Hardin Valley Academy senior defensive back, stops Bearden junior quarterback Collin Ironside with a flying tackle as Hawks teammate Loch Hardin (5), senior linebacker, closes in during this Region 1-6A showdown at HVA Friday, Oct. 19.

HARDIN VALLEY — A fancy touchdown using some trickery (Grayson Vaughn 35 yards to Kelton Gunn), a nice fingertip 48-yard touchdown catch (Luke DeFur) and a 98-yard kickoff return (Gunn) to kill what little momentum Bearden built — all preceded Hardin Valley Academy's opening-drive touchdown statement (capped by Vaughn's 13-yard run).

It was a performance HVA head coach Wes Jones labeled as "fast and physical."

The end result was a dominant 27-7 Hawks win — on Senior Night at HVA Friday, Oct. 19 — against a Bulldogs team (7-2 overall, 3-2 in Region 1-6A) riding high off its own statement victory a week earlier versus rival Farragut. Hardin Valley improves to 6-3, 4-1.

From the strategic side, the win made this week's HVA at Farragut game a region title showdown for a No. 1 seed during next week's opening round of the playoffs.

For Bearden it meant going from an almost certain region title and No. 1 seed to a possible No. 4 seed, if Farragut beats HVA, and a first-round trip to powerful defending 6A state champ Maryville.

"We knew if we wanted to win the region we had to play as a team and stop Caleb Wilkins because he's a great running back. And we shut him down," said Loch Hardin, HVA senior linebacker who twice joined with DeFur, also a senior linebacker, to stop Wilkins short on fourth-and-1 situations.

Bearden was 0-of-4 on fourth downs.

"Loch and Luke made some really big plays on fourth down," Jones said.

"They have an excellent running back, an excellent line and excellent team. We just had to step up, and that's what we did," Jaylen Moore, junior defensive lineman, said.

"I thought Jaylen Moore's pash rush in the fourth quarter to kind of get (BHS quarterback Collin) Ironside off the spot was big for us," Jones said.

Offensively, "We came into the game with energy, getting hyped up about everything," Vaughn, senior quarterback, said.

"Grayson played a good football game," Jones said. "And Kelton's speed, including defensively, was key."

"Hardin Valley came out and played a very good ballgame, and we came out and did not play anywhere close to our best effort," BHS head coach Morgan Shinlever said.

Ironside's 2-yard TD pass to his older brother, senior Addison Ironside, accounted for the Bulldogs' only touchdown.