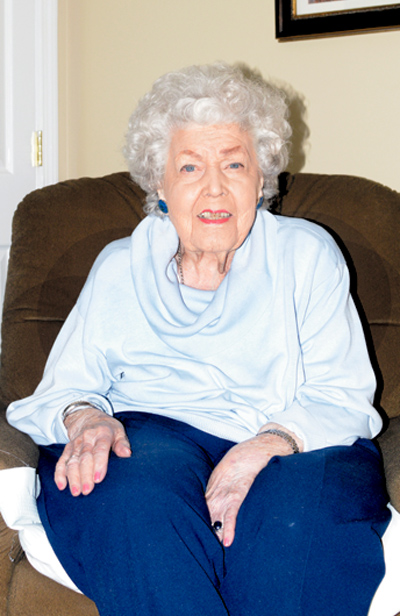 Arbor Terrace of Knoxville resident Jo Wilkerson today.

Arbor Terrace of Knoxville resident Jo Wilkerson has lived through two world wars, 19

U.S. presidents and the Great Depression.

Throughout her life, Jo has been a singer, artist, teacher, skit writer, wife, parent and grandmother.

"She is the reason we have a faith," Janet McLean, Wilkerson's daughter, said about her upbringing. "She had a love for Israel, is a prayer warrior and has a sense of humor, unconditional love and forgiveness.

"God gave her gifts the rest of us didn't get," McLean added.

Now, Jo will observe her 100th birthday with two celebrations — one at the assisted living facility on her birthday, Thursday, Nov. 8, and another with her entire family Saturday, Nov 24, at Gettysvue County Club.

"I have nieces coming from Chicago, but the main part of the family is coming on Thanksgiving," Jo said.

"Every niece and nephew she has are coming from California, New Jersey, Pennsylvania," McLean said. "All the grandchildren and great-grandchildren are coming."

"I think it's delightful," Jo said about turning 100. "I'm enjoying it, but more and more people are reaching 100."

"But to be your age and your health is remarkable and thankful," McLean said to her mother.

"It's in the genes," Jo added. "My mother lived to be 96 and my grandfather (on her mother's side) lived to be 96, too."

Jo was born in 1918 in the old Knoxville General Hospital, which no longer exists, to Dr. Joseph "J" Marshall Lee, formerly of Clinton, and Mary Sentelle Lee, formerly of Greenville. She had an older brother, William "Bill" S. Lee, who became an Episcopal minister.

"I used to go with my father — he was a doctor. They would go and give free service," Jo recalled. "I would sit in the car and wait for him while he did it.

Having "a three octave range" singing voice, Jo's talent carried forward into her college years in the 1930s, when she performed in Alice In Wonderland, at the University of Tennessee.

During the 1940s she performed in several operettas (musicals, such as the "Red Mill" in 1947, and "The Merry Widow" in 1946, and for area churches. She would also dabble in painting during her life and write skits.

Before then, however, she had met her husband, Harry Wilkerson, as she entered UT.

"We met on a blind date at a dance," she said. "The sororities were rushing us."

Harry became a landscape architect for Tennessee Valley Authority, and the Wilkersons had three children: Bob, Jill and Janet. She now has seven grandchildren and 15 great-grandchildren.