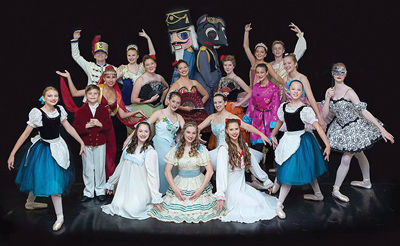 Concord Arts dancers who have been cast in the upcoming "Nutcracker" production include Casey Riley, front and center; AnnaMarie Bailey, to her left; Kristina Riley, middle, left, standing; and Kara Griffin, standing far right in black and white. Not pictured is Sky Edwardson.

A relatively small Farragut-based dance studio is garnering a regional reputation of excellence, as for the second consecutive year its dancers have been chosen to lead a classic Christmas ballet.

AnnaMarie Bailey and Casey Riley, both of the Concord Arts dance program, will share the lead role of Clara in "The Nutcracker ballet," which will be performed Friday through Sunday, Nov. 16-18, by the Oak Ridge Civic Ballet Association at Oak Ridge High School.

The cast was selected in September, and Riley and Bailey, along with three other Concord Arts dancers who were cast, have been busy rehearsing every weekend since.

Both have multiple years of dance training behind them and have performed in the ORCBA production before — but never as leads.

"I've been thrilled," said Riley, 19, of the role and Nutcracker rehearsals. "But it's almost like you are just treading water."

"There is so much to remember," Bailey, 14, said. "But it becomes a musical memory."

Last year Kara Griffin, also of Concord Arts, also was selected to portray Clara, while this year she has a principal role of the Masquerade Doll in the ballet, too. A total of five from Concord Arts are in this year's show, including Sky Edwardson and Casey's sister, Kristina Riley.

Additionally, all maintain regular dance classes at Concord Arts, where Bailey, Riley and Griffin also help instruct the younger students.

The dance portion of Concord Arts — which also offers drama and music instruction — has been operating for the last six years, previously at First Baptist Concord. Earlier this year, realizing the need for more space, Steve Arnold, who operates Concord Arts with his wife, Julie, reached out in search of a new dance studio.

"Virtue Cumberland Presbyterian Church responded and has just been great," Arnold said. "They said they were only using their Family Life building one night a month, and they offered to let us use it, too."

The Arnolds already had been operating the music and drama portion of Concord Arts when Shelley Stansell, owner of Lighthouse Artist Ministries' Christian dance program, was going to relinquish her business due to relocation.

"Our daughter was going there, and we decided to take over her program — we didn't want it to die," said Arnold, who noted it shared the couple's desire for modest and Godly artistic instruction.

"What drew us to Lighthouse was that the program was presented in a way that honored God," said Arnold, who added the family's experience at a different dance studio was not a good one in describing what the family saw as skimpy costumes and inappropriate music and dance moves.

"We wanted our daughter to learn dance in a wholesome environment regarding the dance, the costumes and the music," he added.

They found what they were looking for in Lighthouse, and the program has grown since the Arnolds took over, with its roster now numbering around 150 students — only strengthening its mission.

"Dance can be a form of worship, and we are called to honor God in all we do," he added.

"We are not just dancing — we are worshipping," Griffin said. "We are sharing our faith with the audience.

"And we are letting people know the passion God has given us, to put out there," Bailey added. "They can see God working in us while we are dancing."

"What we want to do is inspire young ladies," Arnold said, pointing toward Concord Arts' practice of utilizing older dancers as instructors for the younger ones. "The idea is that they see the older dancers and aspire to be like them."

For Nutcracker ticket information, visit ORCBA.org.

And, through their work in regional productions, such as The Nutcracker, they are able to inspire many others, as well.