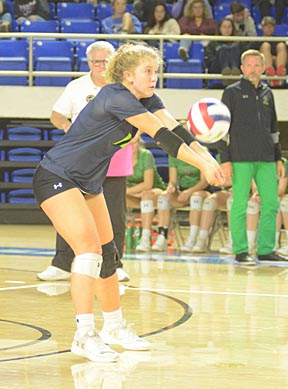 As Knoxville Catholic volleyball head coach Brent Carter (green pants) observes, Lady Irish sophomore libero Cassie Kuerschen digs this Portland return during the TSSAA Class AA state title match in Middle Tennessee State University's Murphy Center Thursday, Oct. 18, in Murfreesboro. Portland swept past KCHS, beating the Lady Irish for a second straight season in the state championship match.

MURFREESBORO — The fourth consecutive appearance in the Class AA Volleyball State Championship match didn't go quite as planned for Knoxville Catholic High School.

Again finishing as state runner-up, the Lady Irish got off to a slow start and never really recovered Thursday, Oct. 18.

They dropped a 25-12, 25-20, 25-18 decision to Portland in Middle Tennessee State University's Murphy Center.

It was the second consecutive year the Lady Panthers (44-7) defeated KCHS in the state championship match.

"We didn't have our best game," said Catholic sophomore libero Cassie Kuerschen, who recently committed to play college volleyball at the University of Tennessee. "We played as hard as we possibly could, but they're just a good team. I think we all worked hard."

The Lady Irish (26-10) and Lady Panthers have become rather familiar with each other over the past two years at the midstate. They've played four matches, with Portland holding a 3-1 advantage over the past two years. The two matches in 2017 and the winner's bracket final in 2018 all were close.

But that wasn't the case in the title match late last week.

The Lady Irish took a 1-0 lead in the opening set, but Portland quickly responded and wasted little time wresting control of the game at 13-4. Catholic saw their deficit balloon to 24-9 before the Lady Panthers closed things out, tanking advantage of multiple KCHS mistakes.

The Lady Irish committed eight hitting errors and two service miscues in the first set, leaving the door open for the Lady Panthers.

"This is absolutely the best that (Portland) has played against us," KCHS head coach Brent Carter said. "We played a much cleaner match in the second and third sets.

"We had some errors in the first set, but hat's off to Portland. I'm not going to take anything away from them by saying we played bad because we didn't. We kept putting pressure on them and they rose to the occasion. They dug everything and they passed better than we've ever seen them pass and serve and receive."

Catholic, which has been plagued with injuries — losing four starters throughout the season — showed some life in the second set. The Lady Irish opened a 10-7 advantage and led 16-15 before Portland ultimately regained control and took a commanding 2-0 set lead in the match.

The Lady Panthers pulled even and made the score 16-16 on a side-out. Junior outside hitter Katie Crutchfield gave Portland a 17-16 lead with an ace. She would add another service point and the Lady Panthers never trailed again in the second set.

Portland would open a 15-2 lead in the final set, as the Lady Irish simply couldn't recover.

There wasn't much disappointment from Carter, who was pleased his squad made it to the final day of the season — and to the grand stage for the fourth consecutive year.

"I can't say enough about our girls. We lost four starters (earlier) this season," Carter said. "We got one partially back this week, so for us to make the state final and make a really good run to the state championship match with four starters out, and getting one back just here at the end, truly speaks to the character of these girls and how hard they work."

Senior right side player Alex Carter (Brent's daughter) played sparingly in preliminary rounds Wednesday, Oct. 17. She played one set in the finals.

Kuerschen finished the title match with 26 digs. Senior Olivia Cunningham closed out her high school career by posting 14 kills, three blocks and 11 digs. Sasha Cain had 23 assists, five digs and a block.

Portland outside hitter Marlayna Bullington had 31 kills, 20 digs and two blocks, and was named the Most Valuable player of the title match.