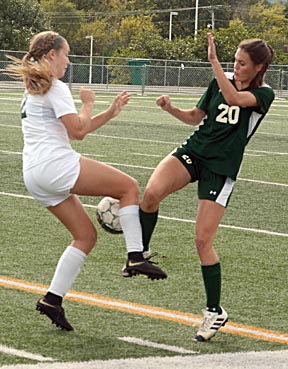 Knoxville Catholic's Caroline Gheen (20) battles Greeneville's Emily Shaw for ball possession during this Class AA Section 1 showdown Saturday afternoon, Oct. 20, in KCHS's Blaine Stadium. The Lady Greene Devils advanced to the state tournament with a 2-1 win.

KNOXVILLE — It was the toughest of times, and places, for Vahan Janoyan's Knoxville Catholic Lady Irish to pick up their third soccer loss of the season.

A 2-1 setback against Greeneville ended the KCHS season, on its home field inside Blaine Stadium no less, in a Class AA Section 1 battle Saturday afternoon, Oct. 20. The prize was a trip to this week's TSSAA state tournament in Murfreesboro.

"I think we poured ourselves out on the field, and it just wasn't enough today," said Janoyan, whose team finishes 2018 with an 18-3-0 record. "I think everyone gave what they had. … It just wasn't our day today."

Individually, "I think our back line gave everything they had and probably was what saved us quite a bit," he said.

Though trailing 1-0 at halftime, thanks to a Lady Greene Devils breakaway goal in the 37th minute, and 2-0 after a GHS corner kick was converted in the 58th minute, the Lady Irish didn't quit.

Forward Ellie Wolski took a nice lead pass and split the middle of the Lady Greene Devils defense, then fired a shot near the top of the18-yard box. It sailed past Greeneville goalkeeper Mikayla Weems in the 63rd minute.

"Ellie Wolski really matured this year, and that's what really gave us a lot of success," Janoyan said. "She was much more mentally in tune and spatially aware of where she needed to be on the field."

Looking back on the season, "It was successful, we got better every game," the Lady Irish coach said.

"As far as the seniors go, Emma Kochanowski (center-fullback) was an excellent captain. Her leadership helped bring this team together to where it's at today," Janoyan added. "Zoe Velas in the middle, she was the glue for the whole team."

The Lady Greene Devils took an 11-8-3 record into state tourney play this week. GHS defeated East Hamilton 4-2 in the state quarterfinals Wednesday, Oct. 24, before being eliminated by Beech thanks to overtime penalty kicks, 5-4, in the semifinals Thursday, Oct. 25.