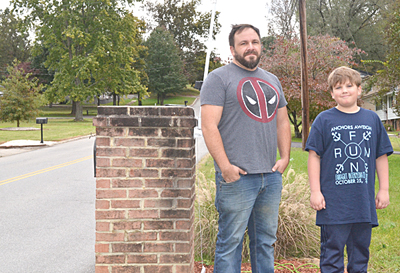 Jaucetin Jeffrey, right, was clipped by a speeding truck last week in front of the family's home in Kingsgate along Peterson Road. Though quite shaken, this fourth-grader was not injured. Jaucetin is alongside his father, Brian Jeffrey, in the front yard beside an apparatus Jeffrey set up to record speeders to post on Facebook, hoping to deter the reckless driving that could have killed his son.

Brian Jeffrey is on a personal mission to make Kingsgate a safer neighborhood after his son, Jaucetin, was clipped by a speeding truck last week in front of the family's home, located along Peterson Road.

Jaucetin, a fourth-grader at Farragut Intermediate School, had just gotten off the school bus Wednesday afternoon, Oct. 24, had crossed Peterson Road and was entering his driveway when his backpack was clipped by the side mirror of a silver truck.

The driver did not stop, and as of press time had yet to be apprehended, even though Jaucetin's father filed a police report with Knox County Sheriff's Office. While Jaucetin was not physically injured, the incident left him visibly shaken and understandably afraid.

"He's scared," Brian Jeffrey said the following day. "He's scared to go to the bus stop."

The incident angered Jeffrey, who along with his wife, Stephanie, and other neighbors had already been working with Town of Farragut officials on addressing the ongoing issue of neighborhood speeders, primarily on Peterson Road. Possibly installing traffic calming measures was a topic of discussion at a Farragut Board of Mayor and Aldermen workshop just last month.

After posting about the incident on the Kingsgate neighborhood Facebook Page, Jeffrey took matters into his own hands, literally, and began recording speeders and reckless drivers to post on the page.

"Yes, my son getting clipped by a silver Dodge Ram yesterday 'triggered' me," he said. "So yeah I'm (mad) at people (clearly speeding) down a road kids are on. And just to be clear, those that do 35mph aren't my concern. It's the excessive speed that's a problem … So say what you will about me, but until people slow down where kids are, this is my hobby.

"If you have a problem with what I'm doing feel free and stop and confront me."

Jeffrey and his family, which also includes two daughters, 12-year-old Bailey and four-year old Emellia, have owned the home between six and seven years, but just moved back to it about a year ago, after he retired from the Army. He said he had taken to "yelling at drivers" in the past, but decided recording the infractions "were a better solution."

At first, he set up a smaller dash camera, but he ended up placing a visible recording device on his mailbox.

"I wanted people to know I was doing it," he said.

While one or two residents took exception with his methodology, Jeffrey received many positive and supportive comments about his efforts on Facebook, encouraging his attempts to slow down neighborhood speeders and cheering him on.

Former Kingsgate resident Beth Tornquist-Amato commented, "Keep up what you are doing. Hopefully you will make a difference. No one should be going faster than 30 mph."

While the driver who clipped Jaucetin had not been caught as of press time, KCSO patrol cars were stopping Peterson Road speeders the afternoon of Oct. 25, just a day after the reported incident.

"I just want people to slow down," said Jeffrey, who noted he had verbally called down drivers in the past for driving fast on the subdivision's main thoroughfare. "It's a neighborhood."

He said he hopes Town officials will move quickly to do what they can to help address what has been an ongoing issue, and, based on an email his wife received from Town Hall, it is definitely on their radar. According to the email, potential policy revisions to traffic calming measures will be discussed at the Nov. 8 meeting, along with possible concrete steps being taken to address the speeding complaints.