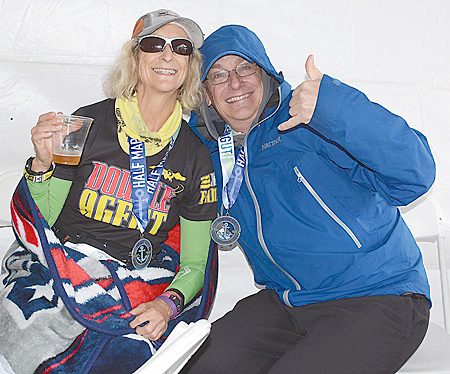 Still possessing lots of energy despite having just completed Farragut 13.1 (half marathon) Saturday morning, Oct. 27, Jill Crawford, 56, and her husband, Scott Crawford, 58, are all smiles. They joined hundreds who enjoyed the post-run party activities in Village Green Shopping Center parking lot in front of Planet Fitness.

When Scott Crawford's profession meant a transfer to Oak Ridge National Laboratory in the fall of 2015, his wife, Jill Crawford, went searching for a home.

The late-middle aged couple's passion for running marathons, half-marathons plus an occasional 50k run led them to the Farragut 13.1 (half marathon) — and their new home.

"I found out that there was this race called the Farragut 13.1. I ran that race and I fell in love with the Farragut area," Jill, 56, said after completing the 2018 Farragut 13.1 with Scott Saturday morning, Oct. 27, during a post-race party in the parking lot adjacent to Planet Fitness in Village Green Shopping Center.

"When I ran that race I said, 'I need to find a house in Farragut because I love all the hills and the barns and the horses,'" she added. "We live in Falcon Pointe."

Before that race in 2015, "I was looking for houses in Oak Ridge and Hardin Valley and West Knoxville," she added.

The Crawfords love of long-distance running has led then on a special coast-to-coast quest: both are less than 25 percent away from reaching their goal of running at least one event in each of the 50 states.

Jill has done so in 39 states, Scott in 35. "My goal right now is to try and get it by next September," Jill said.

Behind Jill a bit in his 50-state goal due to a knee injury preventing him from running "for about three years … until 2016" according to Jill, Scott "is thinking he may be done with his goal by 2020."

Why distance running? "It's one of the easiest hobbies to go and do. … Just have a decent pair of shoes," said Jill, adding the couple belongs to various national marathons clubs including 50 State Half-Marathon Club, Marathon Maniacs and Half Fanatics.

Though Jill has been more into half-marathon versus Scott's choice of marathons, "I've done three 50k's and he's done one," she added.

While labeling the Farragut 13.1 course as "quite difficult" with its array of hills, she added it brought out her competitive spirit versus Scott.

Approaching the 6-mile mark and facing a hill, "I passed him for good," Jill said with a laugh.

"I can't do these hills very well," Scott said.

This year's Farragut 13.1 — her third time to run it — served as "training" for their participation in Route 66 Marathon in Tulsa, Oklahoma, Sunday, Nov. 18.

Though Oklahoma will be Jill's 40th and Scott's 36th state in which to run a long-distance event, Scott actually will return to the state where he was born.

"His dad was in the Air Force. … His parents moved away when he was 3 and he's never been back," Jill said.

Jill apparently has the energy for marathons based on her actions following Saturday's 13.1. "After she finished she ran another 2 miles around the (Village Green) Shopping Center parking lot," Scott said.

Saying she was "into horseback riding" as a younger woman, Jill said she never ran a half-marathon until age 49, while her first marathon was at 50.

Scott, 58, "was into soccer" before he started running marathons "back in his 30s," she added.

Jill said her fastest half-marathon time was 1:59, set in Union, Oregon in 2013.

Scott's fastest marathon time goes back a bit further: 3:14 in the "mid-1990s in Hartford, Connecticut," he said.

This past summer, Jill ran six different half-marathons on consecutive days in each of the six New England states.

In another frantic pace later this fall immediately following Tulsa, "we're coming back here and we're both running the Hot To Trot race (10k and 5k) that's put in by Fleet Feet and Regal on Parkside (Drive) on Thanksgiving morning (Nov. 22)," Jill said. "Then we're leaving on Friday to go over to South Carolina. I'm running in a half-marathon on that Saturday (Nov. 24).

"So I can check off South Carolina."

Moreover, "We've got three kids and they've all competed in high school track and cross country, and they do road races like we do," Jill said.