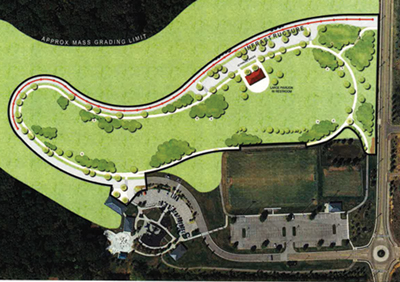 Talks continue on how Farragut Board of Mayor and Aldermen want to proceed with the McFee Park expansion project.

Board members continued to debate what direction to take regarding the next phase of the project during a workshop before its regular meeting Thursday, Oct. 25, in regard to whether the Town should build the tennis/pickleball courts now and how many courts it should have.

Board members asked Ross/Fowler Landscape Architecture, Urban Design & Planning to come up with schematic designs, which would give a more defined cost on the project. Those schematics come with a $44,000 fixed fee.

While the original plans called for four tennis courts, the newest plans show six.

Vice Mayor Louise Povlin explained the number of courts increased because high schools would need at least six courts to compete.

"They play over in Karns," she said. "We thought it would be nice (for them to have) if we are going to build (courts)."

Mayor Ron Williams suggested building a complex of eight dual courts that could be for both tennis and pickleball.

"Don't get me wrong, there are a lot of tennis players," he said, but added, "With the potential of selling these to potential (sponsors), I think they would support eight courts if they were dual courts."

He also suggested having a sequence of two courts followed by a space so there is room for spectators, as Alderman Ron Pinchok had suggested.

"I'm hearing a lot of demand for pickleball." Povlin said.

"Yeah, I've had a lot discussions as well as far as pickle ball," Williams said.

While discussing the possibilities of competitive matches and tourism, Povlin said she thinks the park should remain a community park only.

But Aimee Klenske, communications coordinator with Greater Knoxville Tennis Association, urged Board members, suggested during Citizens Forum segment of the meeting to reconsider their stand on competitive matches.

"There's a shortage of courts all over Knoxville," Klenske added.

She said the Town would be "missing out if you don't allow competitive courts."

Klenske said the Town could generate sales tax revenues from players who use hotels, restaurants and shops.

"Competitive sports doesn't always mean sports tourism," Farragut resident Pamela Knierns said, adding community groups also do competitive matches.

Concerning the amphitheater, which was proposed in the 2012 plan, Williams said, "We pretty well know the amphitheater is something we don't want here (in the park). In my opinion, that's probably where the dog park should be," he said. "... The amphitheater really should be in the Town Center, and I think that's what we all would like to see because the Town Center can support the amenity."

"What was decided last year was to move ahead (with a) $6.1 million phase, which included all the mass grading for the site, the utilities for this area, utility stub-outs for the rest of the site, the great lawn, pavilion, walking trails some parking, some lighting and a restroom," said Sue Stuhl, Parks and Recreation director.

The project already had faced delays because of a sinkhole engineers discovered on McFee Park property, Town administrator David Smoak said.

At the same time, some Board members balked at the cost, so Board members compromised and decreased the cost to $4 million. When that vote was cast, Pinchok voted to accept the $4 million, but now said he "didn't mean to cut $2 million (from the project)."

They also asked for other options, one of which was the tennis complex and another for the $6.1 million version.