Plenty of details in a 28-0 Ads region title-rivalry win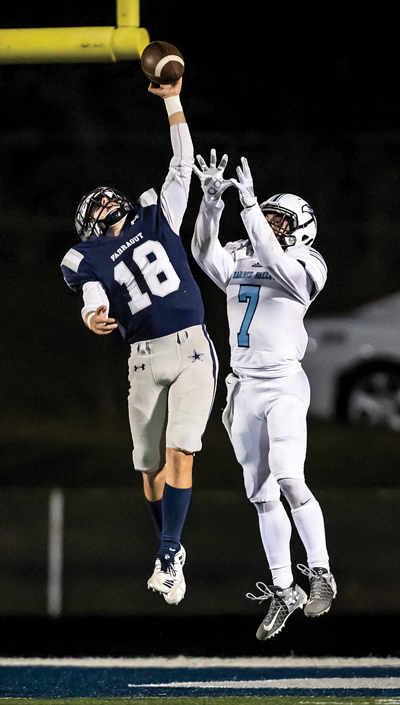 Jake Evans (18), FHS senior defensive back/back-up quarterback, goes high to knock away this potential touchdown pass from HVA quarterback Grayson Vaughn to receiver Kelton Gunn. The Ads rolled past the Hawks 28-0 to win the Region 1-6A title Friday, Oct. 26, on Senior Night at FHS's BIll Clabo Field.

Momentum Hardin Valley Academy gained with an early first quarter goal-line stand versus Farragut went away quickly — thanks to a Matt White interception and Kyle Carter's 2-yard touchdown run two plays later.

In this Region 1-6A championship game among rivals Friday, Oct. 26, Farragut (9-1) scored 14 of its 28 points off of interceptions — the other following one of two Tanner Corum picks.

On the very next play following his first pick in the third quarter, Corum — as a wide receiver — was the recipient of an almost perfectly thrown 32-yard touchdown strike from quarterback Gavin Wilkinson. He also fired another TD gem, covering 19 yards, to Wyatt Lucas.

Carter, a senior, ended the scoring late with a 7-yard TD run.

The Ads defense, meanwhile, held the Hawks scoreless as FHS celebrated a 28-0 victory, and region crown, on Senior Night at Bill Clabo Field.

"The difference tonight was we knew we had to bounce back from a rough game (17-13 loss) against Bearden," Corum, a senior, said.

"Our defensive backs did a really good job. We got all of our keys correct. We all came together as a unit," said senior Jake Evans, defensive back/back-up QB.

"The key was our (line)backers and our (defensive) line reading the offensive flow, and the (defensive backs) responded to make the stops," senior nose guard Keenan TerHark said.

"To see (Hardin Valley) beat (Bearden) like that (27-7), and then they come in here and we shut Hardin Valley (6-4) out, it was awesome," Neyland Harmon, senior outside linebacker, said. "... We had a bye week (before HVA), so we were really prepared."

"We got back up and we got our chance to win region and we came out and did what we had to do," Benji Cheatham, senior inside linebacker, said.

"It feels great. You don't get many second chances to be a region champ," Wilkinson, a junior, said.

Carter praised his offensive linemen by name: "Preston (Webb), Jake (Rima), Cooper (Mashburn), Eithan (Gossage) and Carter (Shooerman), they did a great job blocking guys all night. They made seams for me."

"We focused on coming off the ball hard, and once we did ... it worked out great for us," Mashburn, senior center, said.