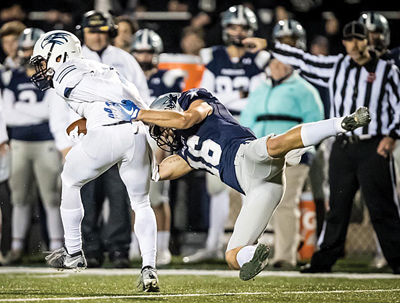 Tanner Corum, Farragut senior defensive back/receiver, makes a diving tackle on Cartez Campbell, HVA senior receiver, during this Region 1-6A championship showdown at Bill Clabo Field on FHS Senior Night Friday, Oct. 26. The Admirals dominated in a 28--0 win to claim the 1-6A crown.

What would be the two best ways for Hardin Valley Academy to flush an extremely disappointing 28-0 loss to rival Farragut, with a Region 1-6A championship opportunity lost?

First, as a No. 3 playoff seed, you travel to Ooltewah (8-2, No. 2 seed in Region 2-6A) and you pull what would be considered a slight upset Friday, Nov. 2.

If you pull that off, odds are the Hawks (6-4) will get a rematch with the Admirals (9-1), once against traveling to FHS's Bill Clabo Field, in a second-round playoff game Friday, Nov. 9.

Winning the rematch would be quite a Hawks Nation flush.

"We'll go back and regroup and get ready for Ooltewah," HVA head coach Wes Jones said after the loss Friday night, Oct. 26.

Farragut, 1-6A top seed as a result of its region championship victory, will host Cleveland, 2-6A No. 4 seed with a losing record (4-5).

Opening kickoff this Friday for all area playoff games is 7 p.m.

Jones gave his assessment about what happened against the Admirals.

"I'm disappointed in our effort this evening," he said.

"Twelve penalties speaks a lot," two of which nullified HVA gains of 18 and 33 yards, Jones added. "The bottom line is penalties and turnovers put us in a bad position."

Following a Hawks' defensive stand in the red-zone, stopping FHS on downs early in the first quarter, a Matt White interception led to a 15-yard Admirals touchdown drive.

"That was a big play," he said.