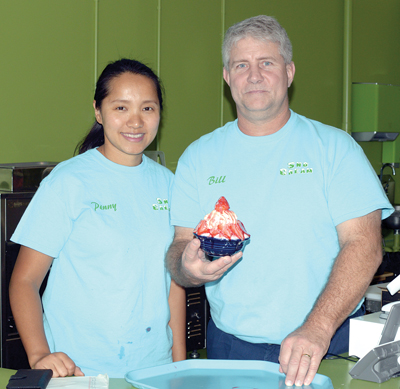 Sno Cream owners Penny and Bill King only recently opened their shop in Turkey Creek, and say it is the only franchise in the state that offers this unique Thailand delicacy.

William "Bill" Paul King and his wife, Phennapa "Penny" Phohiran King of Knoxville, have brought a little bit of Thailand back to the United States to share in Turkey Creek.

"It's the first store of its kind in Tennessee," Bill said. "Because I loved it so much, I wanted more."

So, the Kings opened Sno Cream, LLC, 10911 Parkside Drive, in the shopping center with Earth Fare and WARHAMMER, Sept. 26.

"We sell a frozen dessert," Bill said. "It's hard to explain it, but when people get it, their first reaction's always the best one. They always look up and say, 'Oh, my gosh, that's good.'"

Bill said they have had a lot of positive feedback with testimonials on Facebook, Instagram and Twitter.

"Everything we got was delicious," stated one post from Ginny Koon Willis.

"My kids loved Sno Cream and we will be back again," read another.

Bill said his product was inspired by bingsu, a popular Southeast Asian milk-based product that has the texture of snow and is covered with a variety of toppings, from strawberries and a cream cheese-based whipped cream to chocolate and bananas.

The Kings' business carries 16 different flavors of sno cream and a variety of toppings.

"We don't put additives in," he said. "It's all natural, no artificial flavorings, syrups or anything."

The idea for the business came about after Bill tried bingsu during a visit with Penny's family members in Thailand two years ago.

"Two of her sisters there grabbed us and said, 'You guys got to try this bingsu,'" he said. He was reluctant, but after trying the Strawberry Lover, Bill said he was hooked.

"I loved it," he said. "The texture was like I was eating snow — all the way to the bottom.

"It stays cold for a long time," adding the sno cream does not melt like ice cream does.

After returning home, Bill, who worked in nuclear power, decided he wanted to go into business for himself and eventually came up with the idea to open Sno Cream shop.

They researched the bingsu machines, found them in Korea, and after looking from Pigeon Forge to Cedar Bluff, he determined the Turkey Creek site, formerly housing the Doctor's Diet, was the best location, he said.

"Turkey Creek is the place to go for shopping and movies," he said. "We always end up coming out here."

For more about Sno Cream, call 865-288-4136 or go to Sno Cream's Facebook page.