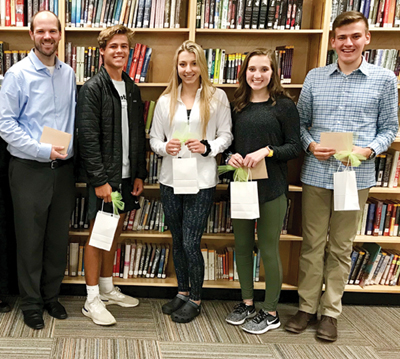 Farragut High School October Stars of the Month, from left, are Staff honoree Jake Gulledge, Athlete honorees Lance Simpson and Sydney Cherney and Star Students Emma Ramsey and Nikolas Nelson.

Farragut High School has announced its October Stars of the Month.

Honorees include Emma Ramsey, sophomore, and Nikolas Nelson, senior.

"Emma Ramsey's work ethic, determination and positive attitude are inspiring," said Laura Austin, Farragut High School math teacher who nominated Ramsey.

"She challenges herself and then puts in the extra work needed to be successful," she added. "She's encouraging to other students and always willing to help. It's a joy to be her teacher."

Susan Bolinger, FHS director of College Counseling, detailed her reasons for nominating Nelson.

"Nikolas is new to Farragut High School this year as a senior but has made a great transition," she said. "I know it must be hard to adjust to a new school as a senior, but Nikolas has a great personality and positive attitude.

"He is a joy to be around. I am impressed by his flexibility and desire to be a part of FHS," Bolinger added. "He also challenges himself by taking tough courses and is really interested in learning, not just making the grade. 

"Nikolas is a great addition to FHS."

October Star Athletes of the Month are Sydney Cherney, volleyball, and Lance Simpson, golf.

Cherney, committed to East Tennessee State University, is a senior outside hitter who "earned All-District (3-AAA) and All-Region (2-AAA) tournament honors as the Lady Ads advanced to region play," FHS principal Ryan Siebe said. She will play libero in college.

"Co-state champion Lance Simpson shot a 1-under (par) at the (Large School) state championship to secure his legacy in Murfreesboro," the principal said.

The sophomore, who already has committed to the University of Tennessee, "has a bright future as he hopes to bring a team championship back to Farragut," he added.

October Star Staff Member of the Month is math teacher Jake Gulledge.

"Mr. Jake Gulledge is in his second year at Farragut High School after having taught previously at Hardin Valley (Academy). He regularly uses three-dimensional models in his classes," Siebe said. "His hands-on approach to geometry allows students to make real-world connections to their math standards."

Farragut Stars of the Month program is sponsored by Teri Jo Fox and Eric Whitener with Crye-Leike Realtors and Tanya Ickowitz of Patdome Promotions.