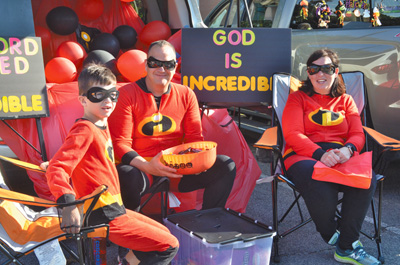 Tony and Suzy Benedetti and son, Dylan

Costumed trick-or-treaters were out in full force on All Hallow's Eve Wednesday, Oct. 31, to be sure — but hundreds of children and their parents also flocked to area churches the weekend before. About 400 children and their parents turned out to make the rounds as First Farragut United Methodist Church, 12733 Kingston Pike, hosted "Trunk or Treat" Sunday, Oct. 28.

Other churches involved were Faith Lutheran, Farragut Presbyterian and Concord United Methodist, which were among many Farragut churches offering goodies for children dressed up as their favorite comic book heroes, movie and TV characters. The churches also provided games, snacks and fellowship for all those attending.

For more photos from this event, please see Westside Faces in our print edition.