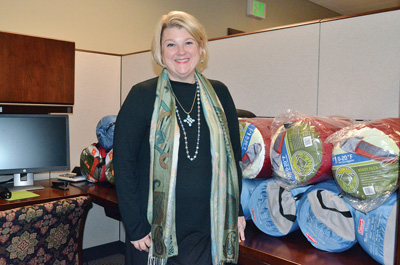 Farragut resident Janette Burgin stands in front of zero degree sleeping bags she has been collecting for the homeless at her Regions Bank office, located at 151 Major Reynolds Place. She is spearheading a drive to see at least 350 collected by Saturday, Dec. 1, to distribute to the Knoxville homeless population through Care Cuts of Knoxville's W. 5th Avenue meeting site.

Janette Burgin might live in the Farragut suburbs, but what warms her heart year-round is working for Knoxville's homeless population.

That is especially true as the cold weather approaches, and she starts her annual sleeping bag drive, which is currently in full swing.

Ever since she learned Knoxville has had upward of 350 homeless children living throughout the area, she fully supported and worked for an annual sleeping bag drive.

"When I learned about the children, and how there are so many homeless but are still trying to go to school, I started raising sleeping bags for them," she said.

This year is no different. The mortgage loan originator who works for Regions Bank officially began this year's campaign about a month ago.

And, keeping in mind the 350 figure, which first touched her heart, she sets that number as the drive's goal every year.

Burgin has spread the word throughout the community and has asked for donations of adult-size sleeping bags that will warm even in temperatures lower than zero degrees "for the homeless and families living outside," she wrote in a Facebook post.

"There are not enough beds in shelters. Families are separated and the mentally ill can't function in programs …. so they live in the cold."

She said there are "not enough services" to keep families intact, as many older sons are separated from their mothers, for example.

"So a lot of folks remain in cars because they try not to have to put their kids in shelters alone."

She has asked the bags be dropped off at her office, located at 151 Major Reynolds Place in Bearden, or they can be ordered and shipped to that address (Zip code 37919). She also has offered to pick them up herself.

So far about 100 have been donated toward the goal. Burgin said the real estate community, with whom she works closely, has been extremely supportive of this effort down through the years — and most donations so far have come through that group.

Burgin is setting a Friday, Nov. 30, end date in order to give out the sleeping bags by the first weekend in December, which will be just in time for distribution at the monthly Care Cuts of Knoxville gathering — an offshoot of Burgin's sleeping bag drive.

She said she was talking to her hairdresser Marti Baker one day about Knoxville's homeless, and Baker had an epiphany to provide hair care for them.

"She wanted to offer them a way to restore their dignity," Burgin said. "It was her brainchild, to see if there is a way to (positively) effect their lives."

The non-profit evolved exponentially after securing a standing location at 300 W. 5th Ave. in downtown Knoxville, donated by GEO Hair Lab owner Jeremy Wann. Dozens of hair stylists volunteer their time, and beyond hair cuts and coloring the program provides small breakfasts, on-site lunches, a brief worship service, clothing, toiletries and other services.

"It gives them a safe place to come," said Burgin, who noted what started out to provide hair care has a evolved into a day filled with activities and chances to connect with Knoxville's homeless.

"We are able to find out their stories and find out what their needs are," she added. "And we are able to provide a little comfort. It is one person to another person doing what we can to show we care."

Care Cuts been operating for the last 30 months, and in that time has successfully overseen more than 40, who were formerly homeless, break the cycle.

"As long as you are breathing there is a chance — there is hope," she said.

Anyone interested in donating sleeping bags or other items can find more information from the Care Cuts' Facebook page.