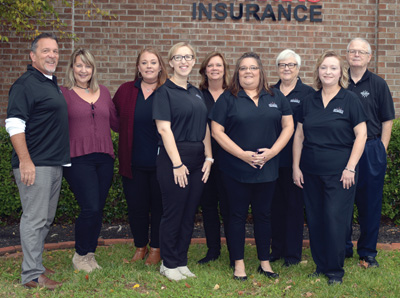 Randy Sparks, far left, owner of Sparks Insurance, joins his wife, Debra, second from left, and team, from left, Amber Blair, Savannah Price, Sheila Radford, Teresa Vacarro (Crossville branch), Faye Bean, Natalie Howard and Joe Nunnally (Pigeon Forge branch), in celebrating his office's move from North Knoxville to West Knoxville during an open house at its new office at 10101 Sherrill Blvd., Thursday, Oct. 25.

Randy Sparks has taken the advice of Horace Greeley — who popularized the phrase "Go West, Young Man, Go West!" — and moved his Sparks Insurance office from North Knoxville to 10101 Sherrill Blvd. off Dutch Valley Road, in West Knoxville.

Although opening Oct. 1, the Sparks Insurance team held a grand opening for customers and visitors Thursday, Oct. 25.

"I love it," Sparks said. "We're so excited. It's a blessing. God has blessed us with this opportunity to get closer to a lot of our customers and closer to a growth area of Knoxville."

Sparks Insurance offers insurance policies for auto, home, renters, life, business insurance and even wedding insurance.

"We have a bunch of different agencies we work with that can provide a lot of carrier coverage options for the best price, best coverage or the best custom (policy) for your needs," said Savannah Price, Sparks Insurance marketing director.

The insurance agency even can help with pet insurance policies.

Sparks has been in the insurance field for 39 years. He was an agent with Prudential Insurance Company before opening his own office in North Knoxville.

Sparks Insurance previously was located off Clinton Highway, where it opened in 1983, then moved to a site off Merchants Drive in 2001.

At Sherrill Boulevard, "we expanded our size; we expanded our resources," Price said. "This office allows us to do training. As the marketing director, I can have room to grow because I am able to see how I can work with (the West Knoxville audience) better.

"Farragut and West Knoxville have a different approach to marketing than North Knoxville," she added.

"Our main goal behind moving here was to better serve our customers. This is an easily accessible location because of the Interstate being right there. We really loved our North Knoxville location, but it was time to expand. It was time to better serve our customers in that capacity.

"This is a good location for growth," Price said. "This office is set up much more efficiently for customers, agents have their own work stations and we have this conference room we use for training purposes and staff meetings."

The new site also has a coffee bar for guests and customers and more office space.

Sparks closed down his Merchants Drive office, so "this is our main Knoxville location," Price said. It also has locations in Madisonville, Crossville and Pigeon Forge.

However, one thing has not changed.

"Our priority has always been the customers," she said. "I've never met a company so focused on its customers.

"My goal with marketing is to help the customers and highlight to them what Sparks Insurance can do for them," she added.

Sparks, who works with a Christian radio station and city in Nicaragua to help the Nicaragua people, brings his mission vision and values to his insurance company, Price said.

"We get to be a part of that (mission)," she added. "When you walk into our office, you can see pictures of the chickens and the goats because that matters to us.

"And every customer who works with us, they're helping impact other people and love other people."

The office is open from 9 a.m. to 5 p.m., Monday through Friday. For more information, call 865-640-6507 or go to www.sparksinsurance.com.