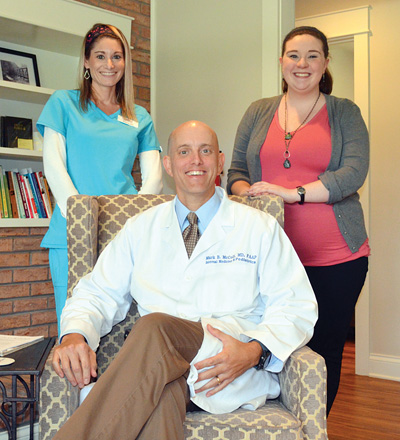 Dr. Mark McColl, seated, RN Kristin Robison, left, and DPC Coordinator Lainy Daleiden-Rediger work for Trinity Medical Associates of Hardin Valley, which offers a direct primary care practice, free of the constraints of health care insurance.

A world in which insurance providers don't dictate care is one in which Dr. Mark McColl already operates.

The internal medicine and pediatric physician, who works for Trinity Medical Associates of Hardin Valley, has a direct primary care practice, which does not take private care insurance.

Instead, the facility operates on monthly membership fees, based on age, with a family cap of $225 per month.

Individual pricing begins at $29 for ages newborn-to-18, $59 for ages 19-to-39, $69 for ages 40-to-64 and $99 for ages 65 and older.

The memberships then cover all office visits, telephone consultations, most in-office lab tests and blood work plus discounted X-ray pricing — all of which is designed to provide better patient-centric care.

"We are working to improve the quality of care and improve patient access, while also making care more affordable," said McColl, who works in tandem with two other doctors under the Trinity umbrella, Dr. Jackie Hone and Dr. Andrew Smith, both of whom work at the Maryville location.

McColl, who opened Trinity's Hardin Valley location in 2016, said he sees this method similar to "what patient care used to be, when you engaged with each other and knew people that you treated."

"If you take away the insurance aspect, which relies on quicker visits and more patients, our model provides longer visits and opportunities for phone calls, e-mails and conversations with patients about their care," he added. "Maybe patients don't need a visit, but maybe they just need a phone call, for example, so they don't lose a day of work.

"Sometimes, they just need to talk to somebody, and in that help them figure out what their needs are."

Covered lab work includes flu shots, TB skin tests, EKGs, strep and flu tests, urinalysis and a variety of health screenings, while many other procedures and labs are offered at a discount.

McColl works with patients on diet, exercise and other key areas in conjunction with the medical aspect of care, and may also refer patients to his practice's medically-based wellness facility Vital Signs, also in Hardin Valley.

A $50 an hour Biblical counselor also is offered to patients at two different locations.

If it is determined patients need specialty referrals elsewhere, Trinity Medical's already-established business relationships likely can help with the financial aspect of that, as well, he said.

"Sometimes you might be able to fly to another state for surgery, for example, and even with the cost of flights patients could still save money," McColl said, noting some surgical centers offer cash prices for procedures outside of insurance channels.

McColl said he looks at his practice as one that is consistently evaluated by his patients who are trying to determine its value, and he welcomes that knowledge.

"It's like when you go to a restaurant, and every meal is like a job interview," he said. "If you go somewhere, and the food is not good, you may not go back. Here, I do my best, every single time. I want people to find the value here, and it helps us stay on our game and also makes sure no one gets complacent."

To that end, patients choose to maintain memberships month-to-month and can cancel them at any time.

McColl now lives in Hardin Valley with his wife, Daphne, who also is a doctor, and their two children, but he grew up in Farragut and graduated from Farragut High School in 1992.

In addition to studying medicine, he also has master's degree in theology and said the two backgrounds together are what he draws on to treat his patients.

He said God made him a physician, and instilled in him the desire to "put a little clinic in Hardin Valley, in my neighborhood, to help take care of the community. And God gave us that opportunity to move here in 2016.

"I love this," McColl added. "Here, I get to be the doctor I was meant to be."

Currently, McColl is the only physician onsite, with an office staff that also includes a registered nurse, Kristin Robison, and DPC coordinator Lainy Daleiden-Rediger.

"If God wills it, we will have another physician" later on, he added.

For more information, call 865-244-1800 or visit www.trinitydpc.com.