Apparent Village Green murder-suicide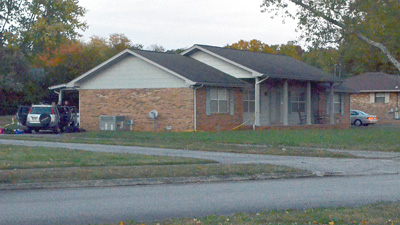 Officers and officials from Knox County Sheriff's Office were on the scene Saturday evening, Nov. 3, of an apparent murder-suicide, which was discovered earlier that afternoon at a Village Green duplex located along Williamsburg Drive South. Inside the home, officers found Judith Nye, 75, and her son, James Nye, 54, both dead from gunshot wounds they apparently had suffered sometime earlier in the week. Autopsy results are pending, but initial KCSO reports indicated James Nye shot his mother, then committed suicide.

In what may forever be an unsolvable mystery, a Village Green resident apparently was shot and killed by her son before he turned the gun on himself, according to Knox County Sheriff's Office.

Judith Nye, 75, who would have celebrated her 76th birthday Sunday, Nov. 4, was found dead Saturday afternoon, Nov. 3, as was her son, James Nye, 54, in Judith's rented duplex, located at 11715 Williamsburg Drive S.

Officers responded to the residence Saturday afternoon at the request of a family member who had not heard from either of the Nyes in an unspecified period of time.

Officers discovered the bodies, determining they had been there "for some time" and that the deaths had not occurred the day they were found, said KCSO communications director Kimberly Glenn.

Officers were on the scene for about four hours Saturday afternoon and evening following the discovery.

Initially, an officer believed an explosive might be on or near the crime scene, based on unspecified evidence he had found, Glenn said. However, a precautionary full sweep of the property, including vehicles, ruled out that possibility.

At that time, neighbors in the opposite end of the duplex were notified and told to leave while the potential threat was assessed.

"They told us there might be a bomb, and for us to leave, so we did," said one neighbor, who asked he not be identified.

He said he knew Judith Nye, and had spoken with her, and said she had two sons, at least one of whom lived in Georgia.

"He was sickly, and she went to Georgia a lot to look after him," he said.

The neighbor said he "was shocked" by the situation, not only because of the deaths, but because he said Judith Nye had lived alone.

"If her son lived with her, it only happened recently," he added.

The neighbor also said he did not hear anything out of place to indicate the tragic shootings, which had occurred next door.

"It's so quiet here, and you really can't even see anything on the other side of the house."

The neighbor also said he did not know how long Judith Nye had lived in her end of the duplex, which, according to Knox County Property Tax Records, is owned by David and Gay Bryant of Oak Ridge.

On Monday, two vehicles remained parked outside the duplex: a Honda CRV with Georgia license plates was in the driveway, and a Cadillac Sebring with Florida plates was underneath the carport.

Glenn said pending results from the Knox County Medical Examiner should help pinpoint the times of death and possibly offer further clues surrounding the tragedy.