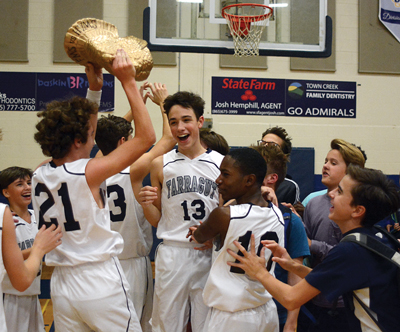 Farragut Middle School's Reese Keeney (21) holds up "The Battle of Turkey Creek" trophy — joined by teammates Hudson Kraemer (13) and Karaaz Johnson (10) — after his Admirals beat Hardin Valley Middle School, in the programs' first-ever meeting, 38-17, at FMS Thursday evening, Nov. 8.

Farragut Middle School's boys basketball team boasted a balanced scoring attack in its victory against new rival Hardin Valley Thursday, Nov. 8. No Admiral player scored in double figures but nine found their way into the scorebook.

Still, that wasn't the biggest story of the day. That was Farragut's defense.

The Admirals didn't surrender a field goal to the Hawks in the first half en route to posting a 38-17 Knox County Middle School Basketball Conference victory in Bobby J. Henry Gymnasium.

"That was just amazing. That's unbelievable for middle school basketball," said FMS head coach Randy Swartzentruber.

While earning "The Battle of Turkey Creek" traveling "Golden Turkey" trophy, Farragut's record improved to 2-1.

Hardin Valley fell to 0-4

The Admirals' attack remained balanced throughout the contest.

Center Alex Doerger, a seventh grader who helped the Admirals make a run to the James A. Ivey Jr. Memorial Middle School Basketball Tournament Championship Game at Karns last February, scored eight points against Hardin Valley.

Dallas Carbaugh added six points, hitting a pair of 3-point shots. Karaaz Johnson, Hudson Kraemer, Griffin Mashburn and Trevor Coggin each scored four.

Reese Keeney, Eli Evans, Ashton Sulack and Garrick Hrivnak had two points apiece.

"It all starts (again) tomorrow," said HVMS head coach Dylan Rayho, who doubles as Hardin Valley's athletic director.

"... They work hard even when the shots aren't falling. They're still getting to know each other and they're learning to play together. They're learning an entirely new system."

Eli Johnson, Riley Gladwin and Stephen Wells each scored three points for Hardin Valley.

Andy Townsend, Will Kline, Chase Idol and Ty Denton added two points apiece.