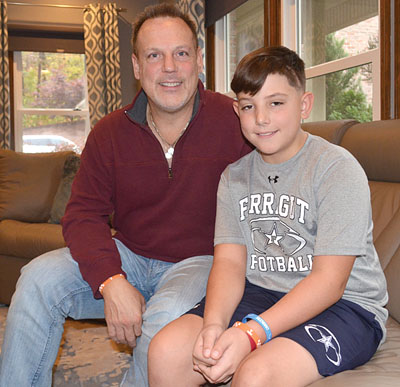 Gage and his grandfather, Joe Kirby, left Monday, Nov. 12, for Memphis, where Gage began proton therapy at St. Jude's Children's Research Hospital for a rare form of brain cancer for which he already has undergone two surgeries.

As quarterback for his Farragut Youth Football 10-U team, 11-year-old Gage Kirby leads and guides his fellow players, encouraging them in every way.

Now, Gage, a fifth-grader at Hardin Valley Elementary School, finds himself on the receiving end of that role, as he battles a rare form of brain cancer.

An active boy, and football player since age 4, Gage had few health issues, except for a history of migraines and allergies, when he started suffering severe headaches about three months ago.

Gage's grandfather, Joe Kirby, who along with his wife, Jackie, has raised Gage and his sister, Riley, since early childhood, at first believed it was just a continuation of the family's history of migraines.

"But his headaches just wouldn't go away," said Kirby, who after seeing Gage suffer for more than a month with no relief took him to the emergency room Tuesday, Sept. 11.

"He just wasn't getting any better," he said. At first, doctors believed Gage had mono or meningitis, but "nothing they tried relieved his headache," his grandfather said.

A computer tomography (CT) scan was ordered, and Kirby knew the news was bad when the doctor returned with the results.

"I immediately knew when the doctor walked back in the room, and we went out in the hall, and he said he could tell Gage had something in his brain," Kirby recalled.

An MRI confirmed the finding and revealed a "tumor so big and swollen they were ready to do surgery Tuesday night," Kirby said, but it was decided instead to try to reduce the swelling before operating.

Being able to give the family a little more time also allowed Gage's team and loved ones to visit him the following day.

"It was good because he was able to tell some people, and his team, that he had cancer," said Kirby, who said their response was to fill the waiting room at Children's Hospital, where the surgery was scheduled.

"It was a real emotional but neat thing," he added.

Gage's surgery removed a tumor the size of a small orange, Kirby said.

"They said the tumor just kind of popped out, and they got the 'ball' of it. The surgeon said she got what she could see."

A follow-up MRI revealed two "spots," and it was then the family was put in touch with St. Jude's Children's Research Hospital in Memphis.

St. Jude's doctors evaluated Gage's records and determined the best treatment options, and established he would need a second surgery to remove two additional cancer growths.

In the meantime, he was well enough to continue playing football. "His (second) surgery was set for Thursday, and he played on Monday," Kirby said. "The (smaller tumors) never bothered him."

In addition to his own team mates, Gage has received well-wishes and support from University of Tennessee wide receiver Jauan Jennings and quarterback Jarrett Guarantano, who visited him in the hospital, while Vols defensive back Todd Kelly Jr. and linebacker Jordan Allen visited his home, just off of Campbell Station Road.

Farragut High School football team members also have encouraged Gage and his family, as have many others in the community, including fellow church members at First Baptist Concord.

Faith has proven a key source of strength for Kirby, especially since he is no stranger to the ravages of cancer.

His late wife, Debbie, was diagnosed with terminal breast cancer in 1996 and died two years later. "I believe God sends us down here for a reason — to help others find Him," Kirby said. "I know Gage has touched a lot of lives, and the opportunity he has had to witness to others has been amazing and humbling."

This past Monday, Joe and Gage traveled to St. Jude's, where they will be spending every weekday through the first week of January, while Gage undergoes proton therapy to treat the cancer.

Formerly owner of a company that sold engineering software, Kirby said he is thankful he is in a position to make Gage, his treatments and his recovery his full-time job.

"We have 33 treatments and they are supposed to be finished by Jan. 3," Kirby said.

"They have been really good to work with us, and schedule his treatment for later in the day on Monday, so we can drive over that morning, then early in the day Friday so we can come home for the weekend."

"I just feel normal," Gage said, showing a jagged scar about two inches from his hairline.

Gage will continue playing basketball on Saturdays, then flag football on Sundays throughout his treatment, as he is able, at the encouragement of his doctors, Kirby said, who noted Gage's only expected side effects might be fatigue as treatments wind down.

"When Jan. 8 comes and school starts up again, we expect Gage to be cancer free and tumor free and hit the ground running," Kirby said.