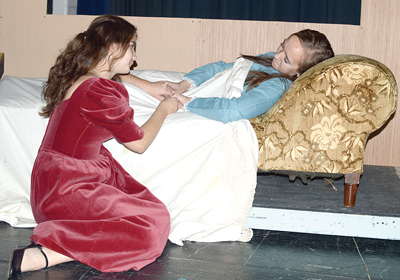 Alex Miller, left, portraying Amy March in Hardin Valley Academy's production of "Little Women," comforts sister, Beth March, who is dying of scarlet fever and is portrayed by Grace Finney, in preparation for the production starting at 7 p.m., Thursday, Nov. 15, through Saturday, Nov. 17, and 3 p.m., Sunday, Nov. 18, in the HVA auditorium, 11345 Hardin Valley Road.

Hardin Valley Academy's advanced theater class is leading the community into the holidays as it presents the emotional, coming-of-age production of "Little Women," based on Louisa May Alcott's novel.

The production is scheduled to begin at 7 p.m., Thursday, Nov. 15, through Saturday, Nov. 17, and 3 p.m., Sunday, Nov. 18, in HVA's auditorium, 11345 Hardin Valley Road.

Tickets, $5 for students and $7 for adults, will be sold at the door.

"This is the 150th anniversary of the novel, 'Little Women,' so it's been a big push all year, all over the country in literary circles," HVA advanced theater teacher Robert Warren said about "Little Women."

"I love this piece because it's so timely about what a woman is capable of being," Warren added, explaining back in the 1800s it was unheard of for a woman, who had no rights, to be published using her real name.

The only way a woman could get published was to change her name to a man's name, he added.

"But (Alcott), who wrote this book, managed to get published by an American publisher (under her name)," Warren said. "I think that's a very empowering story. The story is about life and it's about growing up."

Girls from Hardin Valley Middle School will be playing the March sisters at a younger age while HVA's advanced theater students portray them at a later age.

"So you literally see them grow up on stage," he said. "Then we see them fall in love and get married. We see one of them die.

"It just runs through the expanse of human emotion, so it's an extremely moving story," Warren added. "I like to do things that are very emotional leading into the holidays because I think we all get more emotional around the holidays ourselves."

The story's lead characters are primarily female, "so it gives me a chance to let some of (the girls) really shine."

Jordan Parker plays Jo March; Alex Miller, Amy March; Victoria "Tori" Hart, Beth March; and Grace Finney, Meg March.

"From the first chapter (of the novel), I loved Jo March," Parker said. "She's independent, and in the 1860s, she tries to change women's roles in society. I though that was really inspiring."

Other characters include Lena Jerkins as Marmee, Nathaniel Aberdeen as Teddy, Oliver Edmonson as John Brooke, Ethan Klingerman as Professor Baer, Max Anderson as Mr. Lawrence, Emily Bordon as Hannah, Emma Baber as Mrs. Kirk, Alyssa Hoffman as Sally Moffatt and Zion Conley as Belle Gardiner.

In all about 50 are involved in the production, from stage hands to cast members, Warren said.